The ol' inbox has been bountiful this week, bringing many music from near and far…
First up are the Swedish punk rockers The Dahmers.  Any Misfits fan will instantly love this band's music and campy visual appeal.  Check out their video for "To the Night," from their sophomore album In The Dead of Night:
The Dahmers will be releasing Creepiest Creep, a four-track EP, in late April via Lovely Records — and if you happen to live in Poland or Germany, you can see them live in May.  Their infectious, irreverent tunes will have you on your feet!  For now, stream the first single "Recurring Dreams" at the following locations:
Spotify: http://spoti.fi/2nwpvei
Deezer: http://bit.ly/2Enc6gl
Apple Music: https://apple.co/2FuQVs6
Order Vinyl: www.freighttrain.se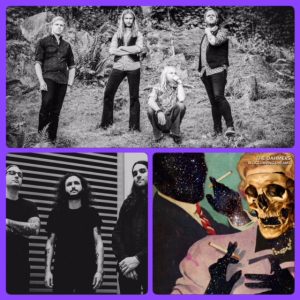 Next up, we have some more Swedes — Oblivious, a stoner rock band that's set to release their fourth album, När Isarna Sjunger, via Gaphals on February 9th.  The multi-faceted arrangements show a band that knows how to draw out a riff just enough, and the fact that the words are in Swedish adds to the psychedelia for listeners who (at the risk of sounding like the dumb American that I am) don't speak Swedish.  I don't have the slightest inkling of what the songs are about, but that's okay — I'll look at the cover art of a toad next to a peaceful winter pond at sunset and make it up as I go along.  Google Translate has informed me that the album title means "When the Ice is Singing," so that's pretty freakin' cool anyways.  On a side note, I've always wondered about the artistic choice for many bands to write songs in English when that was not the members' native tongue.  On one hand, it seems like you're slighting your own language; on the other hand, I guess everyone else except dumb Americans speak two or three languages, so maybe it's not that big of a deal.  But kudos to Oblivious for giving the finger to global homogenization!  (Is "giving the finger" even a thing in Sweden??)  Fans of Clutch, Mothership, and Boston, keep an eye out for När Isarna Sjunger.
In a similar vein, stoner/psych band River Cult will be releasing their debut Halcyon Daze, also on February 9th.  (Multiple formats — vinyl via Nasoni Records, CD/cassette via Blackseed Records, and digital via Magnetic Eye Records.)  This Brooklyn trio likes their songs long and thoughtful, but they maintain their drive through the fuzz and feedback.  A dose of 70s and Southern rock feel (like on closing track "Point of Failure") give River Cult a broad appeal.  The album isn't streaming publicly yet, but have a listen to this live recording of the opener, "Likelihood of Confusion":
What are you listening to lately?
For more from Alternative Control, find us on Facebook, Twitter, Instagram, Soundcloud, and bandcamp.