What is it about the harp that makes it sound so mystical, so spiritual, so enchanting? This graceful trinity of feelings are everywhere on Worlds Away, the latest offering by multi-instrumentalist Lindsay Schoolcraft. Celebrating a decade as a solo artist, the album sees Schoolcraft and her harp explore new musical territories with rearrangements of previously released material, as well as two brand new songs.
Opening with the title track and the first new song, "Worlds Away"sees Schoolcraft reunited with Rocky Gray (We Are the Fallen, ex-Evanescence) co-writer of last year's opus, Martyr. Originally written in 2016, the track was originally set to appear on Martyr but, according to Schoolcraft, "wasn't finished in time" and "didn't even have a name back then."
Perhaps this was for the best as the isolation that came with quarantine in the presence of COVID-19 shaped the song into something more evolved. The result: a tear jerking harp line, soaring vocals, and Gray's contribution of lo-fi beats working to create an ambient, post-rock track. Think the soundtrack to Kingdom Hearts meets How to Destroy Angels.
The second piece of new material comes in the form of "Dance On the Strings". Like the title track, the song was first written for another previous release, in this case Schoolcraft's Rushing Through the Sky EP released in 2012. A sorrowful track reflecting a friend who Schoolcraft says "lost their identity (and) disappeared into a toxic relationship," the title is a clever play on heart strings, harp strings, and viola strings (performed by Dagda of Celtibeerian).
While the rest of the material on Worlds Away is comprised of material from Martyr and Rushing Through the Sky, there is a new perspective to each song thanks to the replacement of a rock band with harps and pianos. An excellent example is the rearrangement version of "Dangerous Game". If the original version could be the opening song to your favorite TV show (full transparency, I'm definitely thinking of Lucifer), then the Worlds Away version would be the reprise to close out a season finale (cough – Season 4 finale – cough).
Other reworked tracks, such as "Fading Star" and "Stranger" showcase Schoolcraft's ability to musically paint with brushes laid out by Chopin, Zimmer, and Reznor — all the while keeping a gothic vibe that fans of Paradise Lost and My Dying Bride are sure to appreciate.
Schoolcraft's voice, while often compared to the haunting sounds of Amy Lee (Evanescence) and Sharon den Adel (Within Temptation), can go beyond to a level of epic set by Floor Jansen (Nightwish) or to a soothing tone akin to Lee Douglas (Anathema). Yet, it remains unique, memorable, and does not overpower any of the instruments in the mix. There is no question that every lyric, whether new or old, comes straight from the soul of the author.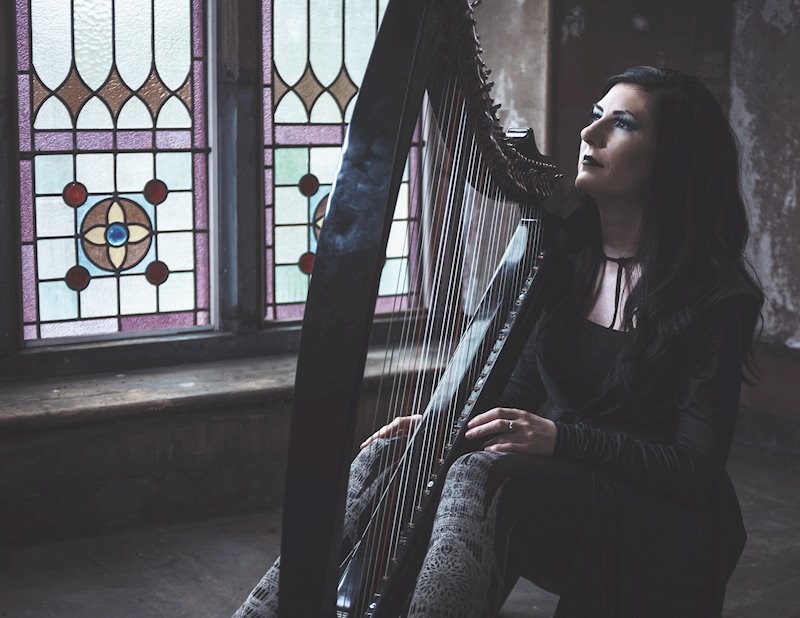 Bottom line: whether it's with a harp, a hard rock band, or with a black metal squad, Lindsay Schoolcraft is simply beyond super-talented. Producing a capturing, emotionally charged album is not the easiest task for any musician, yet, Schoolcraft does this once again. I was so excited to get a different take on the previously released material alongside new tracks. With autumn around the corner, Worlds Away definitely sets the bar for albums to listen to as the leaves fall and the nights grow cold.
---
Photos and review copy courtesy of Dewar PR. All opinions are our own.
For more from Alternative Control, find us on Facebook, Twitter, Instagram, Soundcloud, and bandcamp. Plus, follow our 2020 coverage playlist on Spotify!
Enjoying our content? Support the site on Ko-fi and Patreon!