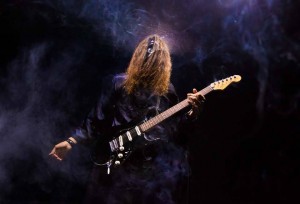 Heavy on the Floyd, misspellings, and I can only imagine a lot of weed, mysterious art rock outfit Opium Denn will release their debut album Demarkation on October 23rd, 2015.  Demarkation is the first of three concept albums where each track will be accompanied by a psychedelic video chronicling the journey from birth to death.  The videos aren't posted yet on Opium Denn's Youtube channel, but you can hear the tunes here:
According to the artist, "Opium Denn explores and seeks a deeper understanding of what it means to be human in the context of this world we find ourselves."  But listening to the album, part of me feels like this guy/band is forty-five years too late; on the other hand, I might not be on the right mind-altering substances.  So pack your best tobacco-use-only smoking implement, kick back, and have a listen, fair readers — can you get into Opium Denn's musical journey?  Let us know what you think in the comment section!
For more from Alternative Control, like us on Facebook or follow on Twitter and Instagram at @AltCtrlCT!
This post was sponsored by Independent Music Promotions.  All opinions are our own.