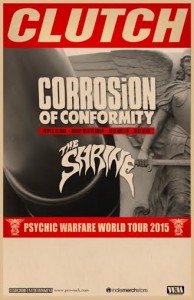 Judging from the crowd that showed up at Toad's Place in New Haven, Connecticut this past Sunday, rock n roll is alive and well in the underground, as Clutch, Corrosion Of Conformity and The Shrine all delivered master classes on the fine art of bringing the rock to the people. It was a stacked bill, one that did not disappoint. In fact, it will more than likely go down as one of the best live shows to take place in our land of steady habits.
The Shrine were up first and set the table with their high octane mixture of punk and old school heavy metal. Opening with "Trippin' Corpse" off their excellent second album, Bless Off, they put the pedal down and didn't look back. We were treated to a high energy run through of "Worship" and even a new song in "Death To Invaders," which will be on their upcoming album Rare Breed.   They closed with "Nothing Forever," where singer/guitarist Josh Landau threw out some extended solos that would make the MC5 proud.
Corrosion Of Conformity has gone through many line-up changes and sonic left turns during the course of their lengthy career. They've played hardcore, crossover and righteous riff rock all with excellent results. The version of the band on stage tonight was the well known for being the line-up for Deliverance, Wiseblood and America's Volume Dealer: Pepper Keenan, Woody Weatherman, Reed Mullin and Mike Dean.  Their set focused mainly on songs from those three albums, but they also threw in a raucous run through of "Vote With A Bullet" from Blind and "Paranoid Opioid" from In The Arms Of God. They ended their set with the one-two punch of "Albatross" and "Clean My Wounds", which led to a massive sing-alongs and head-banging from the crowd.
All this was a lead up to Clutch, who hit the stage hard, opening with "X-Ray Visions" and "Firebirds" off their excellent new album Psychic Warfare. In addition, they added spirited run-throughs of "Rocket 88" and the title track of Earth Rocker, which laid down the band's philosophy of taking it to the stage and letting it rip. We were also treated to a romp through "The Mob Goes Wild" from Blast Tyrant.
Vocalist Neil Fallon is a charismatic front man and his energy and enthusiasm is infectious. He roams the stage, wild eyed and plugged in, throwing out his tongue twisting lyrics with ease and raw power. But just as we got fast numbers, they also indulged in the slow burn of songs such as "Our Lady Of Electric Light" and "Son Of Virginia" which closed out the main set. They finished off their encore with the plugged-in blues of "Electric Worry," which proved the perfect capper for a night of killer rock n roll.
This was easily one of the best shows of the year.