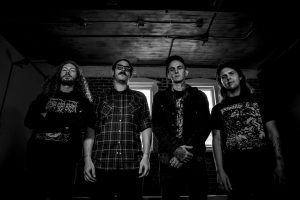 Sometimes I think I've gotten too old to listen to death metal; my taste has gravitated towards groovier, less jarring metal subgenres.  But when I heard about a new release coming up on 20 Buck Spin — the label of my boyfriends Khemmis — for a "death/doom" band called Ossuarium, I figured I'd give it a, ahem, spin.
Ossuarium may never replace Khemmis in my heart, but for death metal it was pretty freaking good.  With their first full-length album Living Tomb coming out on February 1st 2019, this Portland, Oregon outfit definitely has something to offer heavy music fans across genres.  The doom descriptor comes from the beefy guitar tone, comparatively mid-paced tempos, and the use of repeated building riffs, exemplified in the monstrous closing track "End of Life Dreams and Visions Pt. 2."  "Vomiting Black Death" is another standout song — the march riff in the middle had me air drumming all the way to Bed Bath & Beyond.
According to their press release, Ossuarium is great for fans of "Disembowelment, Anhedonist, Vastum, Runemagick, Convulse, Cianide, Spectral Voice, Funebrarum, Innumerable Forms, Mournful Congregation, Lycus, and the like."  I don't know who any of those bands are, so I'll say that Ossuarium is great for ladies in their mid-30s running errands and also for people who like their death metal to sound like actual music instead of a bunch of silverware in the garbage disposal.
Connect with Ossuarium and 20 Buck Spin at the links below and tell 'em that Alternative Control sent ya!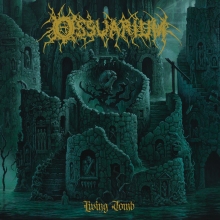 https://ossuarium.bandcamp.com
https://www.facebook.com/ossuariumdeath
http://www.facebook.com/20buckspin
http://twitter.com/20buckspinlabel
For more from Alternative Control, find us on Facebook, Twitter, Instagram, Soundcloud, and bandcamp.  
Review copy of Living Tomb courtesy of Earsplit PR.  All opinions, including those about Khemmis, are our own.