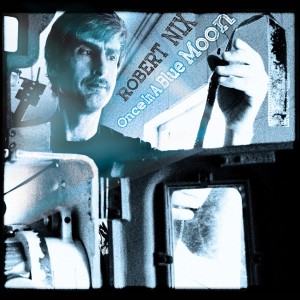 Once in a Blue Moon is Toronto alternative artist Robert Nix's fifth full-length album.  He describes it as "appealing to the 'intelligent alternative music fan,'" but in the end I was not intelligent enough for it.  The psychedelic feel changes proved too abrupt and I just couldn't get into the groove.  That probably wouldn't bother Nix, though — as someone who "Won't Go With the Flow," he probably doesn't make his music with mass appeal in mind.
One highlight of the album was "Dad's Song," a tender all-brass instrumental.  Nix plays everything on the Once in a Blue Moon; he also recorded and produced it at his own home studio.  Certainly it takes talent and dedication to master a room full of instruments and recording equipment.  But there is also something to be said for the input of other musicians, even if one person in a group is the primary composer.  I can't help but wonder how Nix's songs would sound with other humans' sonic contributions.
Released January 4th, 2016, the full album is available on CDbaby here.  If you're a Doors and Beatles fan who wants to hear something way out of left field, give Once in a Blue Moon a listen.
For more from Robert Nix, find him on Facebook, Soundcloud, and the web.
And for more from Alternative Control, find us on Facebook, Twitter, Instagram, Soundcloud, and bandcamp.
This post was sponsored by Independent Music Promotions.  All opinions are our own.