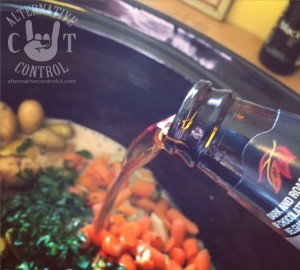 Adapted from Trisha Yearwood's Slow-Cooker Stout Beef Stew
This hearty beef and stout stew is perfect for St. Patrick's Day… Or any other day that the temperature is below 65 degrees.  Some might consider cooking with Allagash a waste of fancy beer.  Not so!  My Grandma Fran always said never to cook with wine you wouldn't drink, and I say the same applies to any other booze you're cooking with.  When the dish is done, you can taste it.  Although you only need one twelve-oz. bottle for the recipe, I recommend buying a four-pack.  You'll see why…
Prep Time: 30 minutes
Cook Time: 8 hours
Yield: 4 servings
Ingredients:
1 pound tiny potatoes
1 cup baby carrots
1/2 a white onion
3 cloves garlic
2 stalks celery
2 tablespoons fresh parsley
1 12-ounce bottle of Allagash stout beer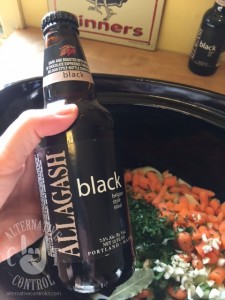 2 tablespoons olive oil
1 tablespoon brown sugar
1 tablespoon tomato paste
1 bay leaf
1/2 cup flour
salt and pepper
1 pound sirloin steak tips
1 tablespoon butter
1 tablespoon canola oil
2 cups chicken broth
2 generous handfuls chopped kale
Optional:
Krusteaz Beer Bread Artisan Bread Mix
1 more 12-ounce bottle of Allagash Black stout beer
Parmesan cheese for serving
Directions:
Roughly chop carrots, onion, garlic, celery, and parsley; add to crock pot along with potatoes, stout, olive oil, brown sugar, tomato paste, and bay leaf.
Heat butter and canola oil over medium-high heat in skillet; mix flour, salt, and pepper in a bowl.  Dredge beef pieces in flour and brown on all sides in skillet.  Add beef to crock pot.  Add 1 cup of chicken broth to skillet and scrape the bottom of the pan to loosen flour bits.  Add this mixture to the crock pot along with the other cup of chicken broth.  Add more salt and pepper to taste.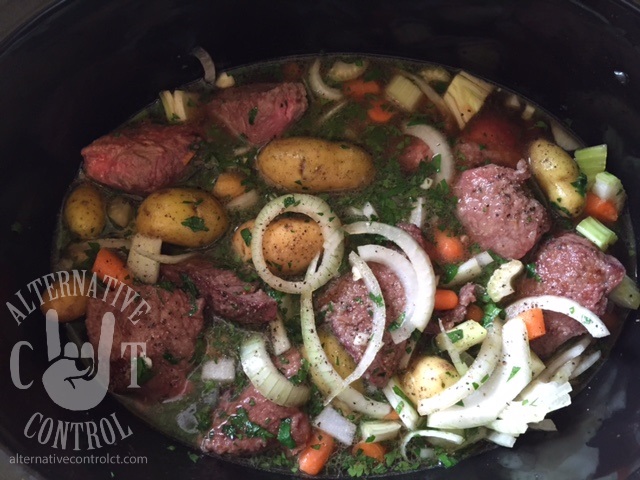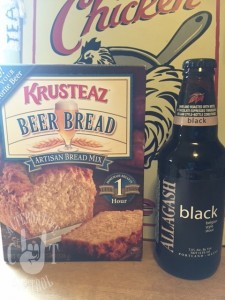 Cover and cook on low for eight hours.
When half an hour of cook time is left, quickly add kale  to the crock pot, stir, and re-cover.
Optional: Prepare a loaf of tasty beer bread according to the directions on the box — I used Krusteaz Beer Bread Artisan Bread Mix (in the baking section of Stop & Shop) with Allagash Black.  The cook time was 50-55 minutes, so I threw it in the oven when there was just less than an hour of cook time on the crock pot.
Serve stew with beer bread and parmesan cheese if desired.  Enjoy with a loved one and those other two bottles of stout!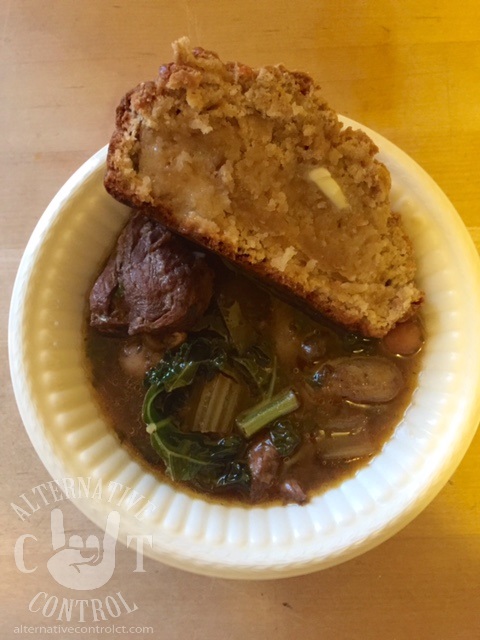 What is your favorite St. Patrick's Day recipe?
For more from Alternative Control, find us on Facebook, Twitter, Instagram, Soundcloud, and bandcamp.