In authentic punk fashion, Detroit-based S.N.A.F.U. (Situation Normal All Fucked Up) offers nineteen songs in forty minutes on their upcoming album Present Day Plague.  And in testament to the blurred sub-genres that thrash/hardcore/hardcore-punk have become, their songs are punctuated with ripping guitar leads, upbeat riffing, and anthemic choruses that rail against The Man.
Have a listen to the single "Unchained":
Some of my favorite yet-to-be released tracks were "Prison Warders" and "Snakes Eating Snakes."  There are a few Detroit punk Easter eggs within the album — "The Human Infestation" features Shawn Knight of Child Bite, and Suicide Machines vocalist Jason Navarro is a guest on "Eternal Nocturnal."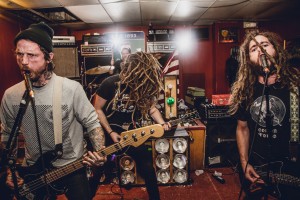 After its release on August 8th, the band will be embarking on a two-week tour that will bring them within our radius of readers:
8/10 – Chicago, IL at Liars Club
8/11 – Madison, WI at The Wisco
8/12 – Milwaukee, WI at Quarters
8/13 – Marquette, MI at Merlot Mansion
8/14 – Appleton, WI at The Poison Estate
8/15 – Minneapolis, MN at The Dog Plex
8/16 – Des Moines, IA at Lefty's
8/17 – Lexington, KY at Best Friends Bar
8/18 – Pittsburgh, PA at Howlers
8/19 – Baltimore/ DC area TBA
8/20 – Philadelphia, PA house show
8/21 – Brooklyn NYC at The Grand Victory
8/22 – Boston, MA at Hardcore Stadium
If you're able to see S.N.A.F.U. in Brooklyn or Boston, expect fury and watch out for the pit.
For more from S.N.A.F.U., find them on Facebook, YouTube, Soundcloud, and bandcamp.
And for more from Alternative Control, find us on Facebook or follow on Twitter/Instagram at @AltCtrlCT!
This post was sponsored by Independent Music Promotions.  All opinions are our own.