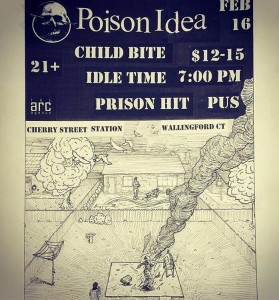 Child Bite is a killer loud rock band from Detroit that splits the difference between noise rock, art rock and hardcore. The band, which features Shawn Knight (vocals), Sean Clancy (bass), Brandon Sczomak (guitar) and Jeff Kraus (drums), raised their profile significantly last year with the release of their Strange Waste EP on Housecore. They are now getting ready to release its follow-up full length, Negative Noise on April 1.
These guys are relentless road dogs, spending a majority of their time on tour. In past year, they've toured with bands as varied as Down, Coliseum, KEN Mode and Negative Approach. And they're coming to Connecticut. They will be direct support for Poison Idea when they play Cherry Street Station in Wallingford on February 16.
We thought this would be the perfect time to send Knight some questions pertaining to their new album, their hometown of Detroit and working with Phil Anselmo, among other subjects. (For full disclosure, these questions were sent and answered before Anselmo's much publicized incident at the Dimebash this year. The band agreed to run the interview as is. Draw your own conclusions.)
So, if you like what you read, come down to the show on February 16.
What can we expect from the new album Negative Noise? How is it different from past Child Bite albums? How is it similar?
Well, we're currently in our "2nd phase" of bandhood… the first 3 albums and handful of EPs were much more of the art rock persuasion, kinda like Devo-meets-The Birthday Party. Dark, still weird, but not nearly as aggressive. The new album has a lot more in common with our last EP, Strange Waste (2014). The main difference here is that we envisioned Strange Waste as a collection of short blasters; 10 songs in under 20 minutes. With the Negative Noise album, we wrote a little bit of everything; a little slow and sludgy, a little epic and proggy, a little bit of noise rock/alternative, some heavy stuff, and even one of those aforementioned blasters.
What was it like recording with Phil Anselmo? Any stories from the studio you would like to share? Or could share? 
This was our first time working with a producer, so we had no idea what to expect. We were nervous that he was going to try to "metalify" us, which ended up being the last thing on his mind. His musical interests are a lot more varied then folks would think, and he really just wanted to capture the best performances possible. We had a blast there. The pace of the session was a lot slower than what we are used to. We usually just have a couple days to track an album, so we didn't know what to do with two weeks! We worked short days though, and the relaxed timeframe allowed us to do more tweaking & production work than usual.
My favorite moment from the entire time there was just sitting in the control room with Phil and Steve, our engineer, one of the nights after we wrapped up vocals. We were listening to other music, talking about shit, and then Phil told Steve to pull up "The Prophet's Song" by Queen. We listened to all eight and a half minutes, full blast, while Phil played air drums, air guitar, and orchestrated the layered vocals during the bridge. I was hanging out with a legend as a he enjoyed the fuck out of another legend's work.
In fact, how did the band get on his radar and get signed to his label, Housecore? 
We got in touch via our mutual friend, Kate Richardson. She runs Phil's label, tour manages his bands, etc. Child Bite were planning out our Anal Cunt covers album a few years ago and decided that we wanted a guest vocalist. I knew about Phil's friendship with Seth Putnam of A.C. back in the day, so we ran the idea by Kate. Next thing I know, Phil's singing with my band on the EP and we are officially on his roster.
Do you think the band's profile has risen because of this? Why or why not? 
Definitely! He has a lot of fans. People pay attention to what he says is worth checking out. His support has totally changed our situation for the better x100.
The band has a very distinct musical style. But, you also have a very distinct visual style when it comes to your videos. I'm thinking of the "Ancestral Ooze" video and the the Jabroni Jamboree, tour mini-doc. How do the two fit together? And do you think it's still important to have interesting  videos to go along with the music? Are they just another avenue for expression? 
I agree, we do have a pretty unique take on the visual end of things. I guess it's a lot like the music; we aim to pack in as much entertainment for your dollar as possible! I think we are scared of being boring or too normal. "Ooze" was great, our buddy Jeff Tuttle (ex-Dillinger Escape Plan) directed that one. It's based off of the movie Street Trash. We love goo and bright colors. Acid trip insanity. The tour doc was by our friend Nathaniel Shannon, who also did the "Still Fucked Up" video with all of the milkshakes. I guess the connection is our collective personality?
I do think it's important to have interesting videos. People are so distracted and have so many options at their fingertips nowadays. If you fancy yourself an entertainer, then entertain goddammit! As many people as possible too, as long as you aren't compromising your art.
In addition to being a musician, you are also a graphic artist. How do you think the two tie together? How might they be different? What do you get out of doing visual art as opposed to music?
Well the big difference is that art is done by myself, sitting at home. It's basically the opposite of going out there performing with a group. It works out great for the band, having an in-house guy to handle all of that stuff. You're not gonna find an artist out there that cares more about this band than I do, or has a more intimate relationship with the music and lyrics. I wish one of the other guys was a mechanic!
I started doing art a bit before I got into music, but they really came together in high school and have been intertwined ever since. I played in bands and did all of the art for my band and my friend's bands, just like now, 20 or so years later. The cover art for an album or a flyer for a show really is the first impression you get, so it's important to properly represent the music, which can be tricky. It's MY interpretation, either of the music or of the band's vision. I'm the filter. It's an interesting position to be in.
Also, Detroit has been getting a lot of national attention in the past few years for being a hotspot for wild and woolly music, where in the past it might have been overlooked compared to other cities. Why do you think it took this long? Why do you think it's become an incubator for lively music? 
Detroit has had its moments in the musical spotlight, like with Motown and then the early garage rock stuff like The Stooges and the MC5. I guess this is just the latest round. The scene really is vibrant now, and the local bands all set the bar really high for each other. Detroit has been receiving a lot more attention over the past couple years though, you're right. A lot of it is ruin porn, which I personally have no problem with. I fantasize about living in an apocalyptic wasteland all of the time. So I guess it's a combo of the strange environment coupled with the fact that the current crop of bands from Detroit are working harder than ever.
In addition, Berserker has become a go-to fest for underground music. Are you happy with its growth? Were you a little surprised with how it's grown? 
I'm definitely happy with the growth of Berserker! This is year three, and we are holding it at a larger venue this time around; the historic Masonic Temple in downtown Detroit. It's really just me throwing a big party with as many rad bands as possible. It's something that we've been sorely lacking in Detroit… a fest of this size that focuses on punk, hardcore, metal, and all of the weird sub-genres that fall between the cracks. I can't believe we scored Voivod. They are the epitome of what this fest is about; eclectic, aggressive underground music.
Once the new record drops, what are your plans? More touring? More awesomely weird videos? 
Everything! We have a tour coming up with Poison Idea next month, then Berserker III in March, which is our 10 year anniversary show. The record comes out April Fool's Day. We hope to have a video out before then, we're just starting to figure that out. As for touring, we have a summer tour already planned but I can't go into detail on that one yet. I'll just say it's big!
For more from Child Bite, find them on Facebook and come to the show on 2/16!  More info here.  
Also, check out Berserker III (3/3/16-3/5/16), a Detroit underground music festival run by Shawn Knight and featuring Child Bite, CT's own Grizzlor, SNAFU, Fistula, and many more.
And for more from Alternative Control, find us on Facebook, Twitter, Instagram, Soundcloud, and bandcamp.