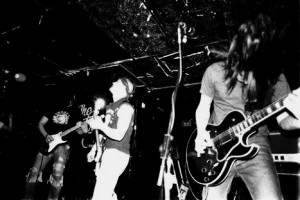 Seattle-by-way-of-Chicago punks Vile Display of Humanity released their self-titled debut album this May, unleashing a twenty-song tribute to the ideals of brotherhood and social justice.  The whole thing was recorded on lead guitarist Dave Foster's laptop, and honestly the production quality is better than you'd imagine for "punk band's DIY recording" — a little vocal-heavy in the mix, but the guitar and drum tones are solid.  Have a listen the timely track "Minimum Wage":
Foster is joined by vocalist Doug Mitchell, guitarist and backup vocalist  Jake Youngberg, and bassist Marty Petric.  Aaron Hatch plays drums on the album, but the band is currently looking for a new drummer.  Vile Display of Humanity is very high-energy and dedicated to their craft, but I'd like to hear more variety in the songs.  If they remain as committed to their musical path as they have been, there will be good things in this band's future.
On a side note, Alternative Control recently reviewed a band called S.N.A.F.U., who also describes themselves with the tags "metal punk thrash hardcorepunk."  And S.N.A.F.U. sounds completely fucking different than Vile Display of Humanity!  (The former being a lot heavier on the metal and thrash with VHD sounding much more punk to my ears.)  See what I'm saying about blurred sub-genres??  When did "punk" and "thrash" become the same thing?  When did everything become "hardcore punk"??
But I digress.  Find Vile Display of Humanity on Facebook and bandcamp and let us know what you think!
And for more from Alternative Control, find us on Facebook or follow on Twitter/Instagram at @AltCtrlCT!
This post was sponsored by Independent Music Promotions.  All opinions are our own.