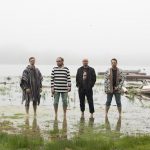 Neurotix 's debut full-length Save Me immediately brings the Nirvana vibes.  Its songs are anthemic, fuzzy, and sparsely arranged, with nasal vocals would at times be at home in a Green Day or Rancid song.  I disagree with the Chicago band's statement that grunge has been "mostly obsolete" since Kurt Cobain's death — but I appreciate their mission to add to the genre.
Check out the fun video for "Service Me" that showcases their local scene:
And get weird with the October-appropriate track "Pumpkin Seeds":
Save Me was released independently on September 8th, 2018.  Find Neurotix at the links below:
Website
Facebook
Instagram
Twitter
Bandcamp
Soundcloud
Youtube Channel
For more from Alternative Control, find us on Facebook, Twitter, Instagram, Soundcloud, and bandcamp.
This post was sponsored by Independent Music Promotions.  All opinions are our own.