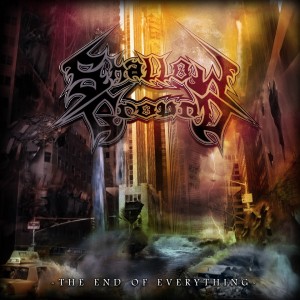 If you wait long enough everything comes back in style.  For those metalheads who worship the bastard child of punk and Motörhead called thrash, this theory is a welcome revelation.  Over the past decade bands like Bonded By Blood, Warbringer, Fueled By Fire, Havok, and Merciless Death have reanimated the mosh-friendly aesthetic laid down by early heavyweights like Exodus, Overkill, Destruction, and Slayer, bringing it to fans the world over.  For CT-based Shallow Ground, this resurgence in thrash metal is a well-earned opportunity to bang some heads and display their wares to a receptive audience.
The End of Everything is an album wearing influences on its sleeve.  "Black Rose" opens with a twin guitar harmony part that would've been at home on Seasons in the Abyss before it dives into territory first mapped on Bonded By Blood.   From the driving, mid-tempo stomp of "Whence They Came" to the off-the-rails soloing of "Prostitution," Shallow Ground ooze THRASH.  It is very evident the songwriters were present during the genre's first go 'round and internalized what made it such a magical time.  Strong guitar interplay [see: "Shallow Ground," "Cleansing of the Hollow"] mixes with pounding rhythm and apocalyptic lyrical tangents to form a cohesive, mosh-friendly product.  Thrash metal has always been about attitude, both in subject matter and guitar riffage.  Axemen Keith Letourneau and Tim Smith churn out solid slabs of chromatic punishment while taking turns carpet bombing the listener with frantic solos.  Drummer Kurt Ragis paints with a solid palette, sliding between the traditional polka-beat-on-steroids and four-on-the-floor, double-bass parts.  Nick Ziembicki's bass lines support the guitars and give the songs a good foundation while occasionally being allowed to step out into the spotlight [intro to the title track].  The musicianship is solid and walks the line between sounding air tight and just unhinged enough that the song might fall apart, something that harkens back to the aforementioned attitude.
Recorded, mixed, and mastered by the band and Dave Colbourne, The End of Everything captures the DIY vibe of early Bay Area bands, albeit with a more modern, updated sonic footprint.  My biggest criticism of the mix lies with vocals that seem to sit on top of the guitars and bass that rumbles too far below them, but as a package everything fits.  Released on the Killer Metal label, The End of Everything throws Shallow Ground into the game at the top of New England's thrash metal scene.  Dig out the white hi-tops, fill a cooler with High Life tall boys, grab some friends, and head out to a show to get your copy…you'll be throwin' down on a toxic waltz in no time.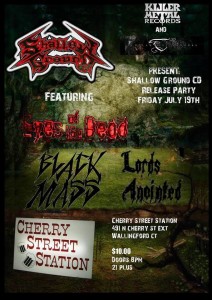 Shallow Ground's Upcoming Shows
6/27 @ The Shrunken Head in Columbus, OH — Warriors of Metal Fest VI Pre-Fest Showcase, also ft. Vindicator, Flesh Engine, Valhalla, and more
7/6 @ Bleachers in Bristol, CT w/ Continuum and Lament
7/19 @ Cherry Street Station in Wallingford, CT — The End of Everything CD Release Party, also ft. Eyes of the Dead, Black Mass, and Lords Annointed
7/26 @  JJ's Tavern in Florence, MA
8/3 @ Railroad Tavern in Keene, NH
9/28 @ Cherry Street Station in Wallingford, CT — FN Fest 2013, also ft. Lowkey, Orcumentary, Physics of Demise, Darkitecht, and Stagger
10/26 @ The Stone Church in Battleboro, VT