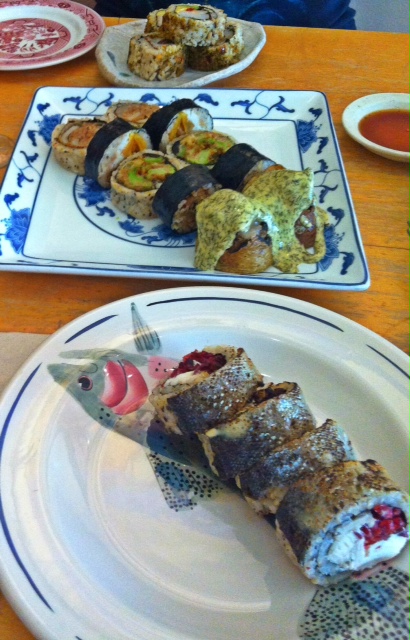 If you just want some hot Gekkeikan and a tuna roll, don't go to Miya's Sushi.  But if you want an unreplicated sushi experience that is hyperlocal-bordering-on-hipster, this New Haven restaurant is your destination.  My husband and I stopped there for lunch this weekend, enjoying a memorable and debate-inciting meal.
The first thing we noticed about Miya's is that the menu is like a book.  Chef Bun Lai explains the restaurant's philosophy of ecological responsibility, extolls the virtues of a plant-based diet, reminisces about his grade-school lunches, and even expounds on the poetry of William Blake.  As we were trying to figure out what the hell to order, a waiter who looked somewhat like Jesus suggested that we try the Blue Plate Special (a sampler with two pieces each of five popular rolls) and maybe one or two other rolls to go along with it. He also told us that Miya's does not serve tuna or shrimp because those fishing industries are not sustainable.  As someone who pretends to care about the environment, I liked this angle, but Mike thought it was intended to make customers feel guilty.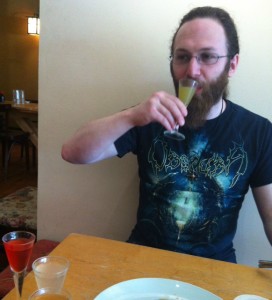 We started off with Nine-Spice Drunken Char sashimi ($16), two bowls of The Best Miso Soup Ever ($4 each), and the sake sampler ($20).  My favorite sake was the Emerald Witches' Lips, which is infused with pine needles.  Our waiter explained that Native Americans in the area used to chew these pine needles to prevent scurvy because they are high in vitamin C.  (Hey, you learn something new every day…)  The sauce on the sashimi gave it a nice kick and the miso soup truly was the best I'd ever had.  Being used to the same old uniform tofu pieces and tiny seaweed flakes, it was a pleasant surprise to get miso with hearty mushroom chunks, a flavorful garnishing of cilantro, and REAL seaweed – the brown kind in Long Island Sound that has those bubbles.  Apparently, Bun Lai harvests it himself!
For our main course, we ordered the Blue Plate Special ($22), the Best Crunchy Roll Ever ($10), and the Kilgore Trout Roll ($18).  I liked the trout roll the best; the smoked fish, goat cheese, and cranberry combination was heavenly.  From the Blue Plate Special, I really enjoyed the Chinese Pygmy Rodeo Roll, which was cauliflower wrapped in potato skin and topped with a creamy dill sauce.  Mike's favorite was the Best Crunchy Roll Ever, a combination of scallop, avocado, and chili.  We finished every piece – what I thought might have been ordering too much turned out to be just the right amount.
Overall, Miya's was a unique dining experience and I would go back if I were in the area with some money to burn.  The main downside for me was the sake prices – the sampler was way less booze than I had wanted to pay twenty bucks for, and it was $10-12 to order by the glass.  (No way, I don't care how much vitamin C is in there…) The dishes we chose were also a bit expensive, but the menu does have a "Sushi for the Masses" section with cheaper and less intricate offerings. Mike was put off by the overt philosophizing; this led to a lively, alcohol-fueled discussion that night about whether humans really would better off eating a plant-based diet.
Still, the delicious and unusual food balanced out these contentions.  The verdict?  Go to Miya's for a one-of-a-kind sushi dinner, then go get drunk somewhere else.
Miya's Sushi is located at 68 Howe Street, New Haven, CT.
(203) 777-9760