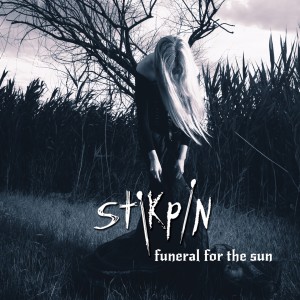 Middletown rockers Stikpin released their first album Funeral for the Sun this June.  Characterized by gritty vocals and slow, bluesy grooves, fans of Soundgarden, Alice in Chains, and Deliverance-era Corrosion of Conformity will find it a worthwhile listen.
With Chris Weller on the mic and guitarist Marco G. at the helm in terms of songwriting and recording, Funeral for the Sun maintains an even keel throughout its ten tracks.  Rounded out by bassist Jose Lopez and drummer Leo Harper, this debut is full and balanced in terms of recording quality.  (Mastering by Nick Bellmore of Dexters Lab probably didn't hurt – if you DIY the recording and send it out to be mastered, you may as well get your money's worth.)  One of my favorite songs was the pounding, Sabbath-y third track, "Starting to Drown."  The energetic opener "As It Burns" also got stuck in my head as I was listening to the album to review.
There were times, however, that Funeral for the Sun felt too "even keel."  The most distinct dynamic change was a short instrumental interlude called "Sorrow."  Aside from that, most of the songs had a similar mood and feel.
But on the other hand, no one can say that Stikpin lacks a clear musical vision.  Their hard-hitting brand of rock is sure to get the crowd off their barstools – find out for yourself at one of Stikpin's upcoming shows.
7/23 @ The Reserve in Meriden
8/2 @ Toad's Place in New Haven
8/8 @ Cherry Street in Wallingford
For more updates, find Stikpin on Facebook and Reverbnation.  Funeral for the Sun is available on Amazon, iTunes, CDbaby, and Spotify.