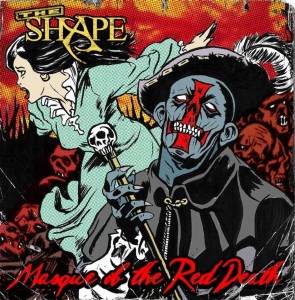 The Shape is a band that's in it for the long haul. According to their Facebook biography, they have returned to the scene after a five-year hiatus — and what a return it's been. Playing several shows a month for the past year and dipping their fingers into the booking pie as well, they've made themselves a household name and were even voted Best New Band by Metal Cyndicate readers. (Although as it turns out, they're not new! Still had me fooled…) In the first half of 2015, they are slated to open for D.R.I. and Mobile Deathcamp, and will share the stage with a plethora of other talented Connecticut locals. If something big is going on, The Shape's name is on that fucking flier.
But none of this would be possible without captivating music. Their 2014 album Masque of the Red Death is a painstakingly crafted progressive soundscape that's accessible enough to earn the band a following, but metal enough that they don't sound like a bunch of pussies. And while I assumed it was their first album (because like everyone else in Connecticut, I thought they were a new band), it's actually their second — following The Great Awakening, it's part of a planned trilogy on the human condition.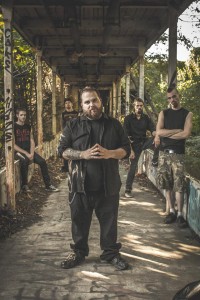 In Masque of the Red Death, The Shapes presents us with intellectual metal: peppered with almost as many literary references as feel changes, the album focuses on the theme of life as a masquerade. "If all the world's indeed a stage," sings guitarist and lead vocalist Brian Almeida, "…Why not create the perfect part for yourself to play?"
A secondary theme is that of trying to escape a plastic society. The anthemic chorus of "Feed the Machine" is a call to action: break out the role others have designed for you. Think for yourself. "Find what you believe… Feel clearly and decide." (That lyric might be from a different track — but it just proves these guys know how to stick with a motif!)
Production and instrumentation on Masque of the Red Death are as lush as the lyrics are literary. I'm always skeptical when I see a band with three guitarists — like, which one of your friends did you feel bad for and let in the band? Or does your singer just want to hold a guitar too? But The Shape pulls it off.  They have all three guitars contrasting in many places, such as the intro of "Echo Eternity" where a melody and countermelody give way to a ripping lead from Guitar Player on the Left. And of course, having three guitarists gives their live show that much more power; they are able to represent on stage all those things that many bands can only do "on the album."
I haven't listened to The Great Awakening, but I assume from the title that's about a literal or metaphorical birth. As Masque of the Red Death progresses, there is more and more discussion of endings and physical death. ("The Wretched Ones" and "The Last Goodbye," for instance.) So, how will the trilogy be completed? My prediction is either a spiritual afterlife or an earthly rebirth, like a phoenix rising from the ashes. Let's hope The Shape doesn't pull a George R.R. Martin on us and take another long hiatus before finishing the series!
Brian Almeida – Vocals, Guitar
Chris Carlino – Guitar, Vocals
John Joseph Oliver, III – Guitar
Steve Hill – Bass, Vocals
Pete Smith – Drums/Percussion, Vocals
Masque of the Red Death was recorded by Nick Bellmore at Dexter's Lab.  It was produced by Nick Bellmore and The Shape.
Upcoming Shows:
2/21 @ Cook's Cafe in Naugatuck with Carnivora, Lightsbane, Archaic Decapitator, and Continuum
2/28 @ Seaside Tavern in Stamford with Mobile Deathcamp, Lyra, and Jimmy Junk Bird and the Stiffs
3/5 @ Cherry Street Station in Wallingford with Mobile Deathcamp, Disguise the Curse, Goat Herder, and She Walks Without Legs
5/28 @ The Space Ballroom in Hamden with D.R.I., Dead By Wednesday, Cyperna, She Walks Without Legs, and Runamuk
For more press on The Shape, visit BraveWords.com.