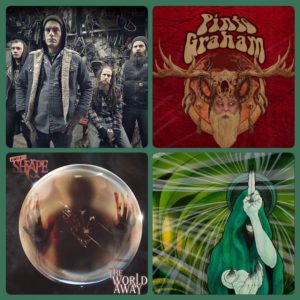 Back in 2014, I started what was supposed to be a bi-weekly music review series: "Payday Downloads," the idea being that I would download some new tunes on a Friday and post a quick-and-dirty review by that Sunday.  Well, the series lasted a whole three columns.
With the hope of crossing albums off my review list quickly and generating some relevant content, I'm resurrecting the Payday Downloads series with a new, alliterative name: Listening Lately.  Spoiler alert, these columns will be about what I've been listening to lately.  Here goes the maiden voyage!
Graves At Sea, The Curse That Is
This is one band that lives up their name — if there's a musical equivalent to being swallowed by a whale, The Curse That Is is it.  Graves at Sea delivers eight tracks on this 2016 album that are at once crushing and beautiful.  Occasional string lines enhance the drama of being tossed about on the merciless sea, but there's nothing pretty about the outro to closer "Minimum Waves."  This is it.  The ship is going under.
The Shape, The World Away
I picked this one up at the album release party on August 4th (at the time of drafting, two days ago).  The Shape's guitarist and frontman Brian Almeida isn't letting lineup changes halt his musical vision, that's for sure.  TheWorld Away continues the musical progression from Masque of the Red Death, and was likewise recorded by Nick Bellmore at Dexter's Lab.  A lengthy fourteen tracks, the ending to the album trilogy (The Great Awakening being the first) is an unhappy one.  Our compelling protagonist ends up in the ninth circle of hell, presumably a "world away" from everything he holds dear.  The title track stood out as a fist-pumper, and I enjoyed the lyrical threads that carried throughout the album.  If you didn't get a copy of The World Away the other night, visit The Shape's Facebook page for streaming and download links.
Pinto Graham, Uno
I must be the last one to the party figuring out that Pinto Graham sounds like the word "pentagram."  Uno (2017) is a must-have for stoner-rock or southern rock fans.  Unexpected rhythmic twists in songs like "Gambler" make the band stand out in a familiar genre.  I listened to this CD at least five times on the way to Cape Cod and back and didn't get sick of it.  Looking forward to sharing a bill with these guys at Cherry Street Station on November 10th — but if you want to see them live before then, they have quite a busy show schedule.  Check out their Facebook page for details.
Demon Eye, Prophecies and Lies
Coming out August 11, 2017 on Soulseller, this album mixes trad-metal sensibilities with a southern flavor.  The North Carolina band described their new music as "Voivod meets Dio" — I'd also add "Vestal Claret meets Valkyrie."  Either way, Prophecies and Lies is a kickin' album.  If you're not false, go buy it.  The teaser track below should convince you.
I'm not going to make any promises about how often this column will run because I don't want it to meet the same fate as its short-lived predecessor.  But keep an eye out for more in the future!  What have you been listening to lately?
Graves at Sea and Demon Eye album downloads courtesy of Earsplit PR.  All opinions are our own.
For more from Alternative Control, find us on Facebook, Twitter, Instagram, Soundcloud, and bandcamp.