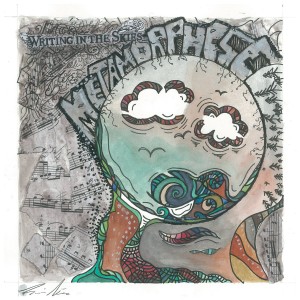 By Talya Goodman
It was well past midnight when Writing in the Skies took the stage to perform songs from their first, highly anticipated album, Metamorphose. Though it was late into the night, the crowd of fans were bolstered by the intricate guitar melodies, skilled drumming, and powerful bass lines.
Metamorphose is an album for those who like substance to their music. The quick transitions between varying time signatures intrinsic to the mathcore genre are intermingled with melodic overtones. They walk the line of musicality and virtuosity by playing technically complex rhythms that are still enjoyable to the average listener who just wants something to move to.
The long, melodious tunes on Metamorphose call to mind Opeth's Blackwater Park fused with the violent breakdowns of The Dillinger Escape Plan. If you enjoy the combination of these styles or technical instrumental metal, Metamorphose is the album for you. Writing in the Skies is a group based out of Western Mass, but you can check them out at venues throughout Connecticut or online at: facebook.com/writingintheskies.