It's been quite a year in ol' 'Merica…. The current political climate has many people worried not just about their livelihoods, but about their right to exist in a country that claims to embody liberty and freedom.  And now we're supposed to think about Christmas shopping??
My friend and fellow AltCtrl writer Christopher Baldwin had a good recommendation, although he probably wasn't thinking of shopping when he said it: in so many words, take care of the people close to you.  Make sure that your community is safe and welcoming so that it can thrive.
This goes right along with our blog's annual mission to unoccupy the mall.  By doing your holiday shopping at local businesses, you are helping your neighbors literally put food on the table — and getting gifts for family and friends that are more unique and memorable than anything you would find on a Wal Mart shelf.  #dontletthebillionaireswin…  Also, don't be afraid to look beyond brick-and-mortar businesses to Etsy shops and in-home creations.  These days, many folks on your Friends list probably have "side hustles" that bring in extra income.
I'm not quite done with my Christmas shopping yet, but here is the gift I'm happiest about so far: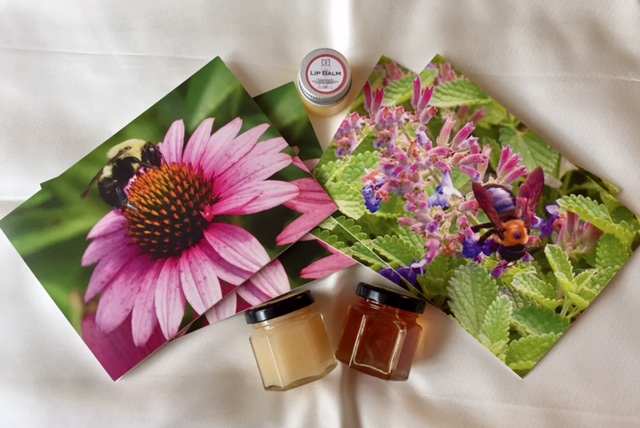 This bee-themed set of goodies includes clover and blueberry blossom honey from Red Bee Honey, beeswax lip balm from the same, and stationery featuring photos by my friend (and yet another AltCtrl writer) Vanessa David.  I visited Red Bee for a blogger event over the summer and the first thing I thought was, "I'm coming back here to Christmas shop."  I ordered my gifts online and picked them up to save on shipping costs; if you're in the area, they are having an open house on Saturday November 26 (tomorrow!) at 77 Lyons Plain Rd. in Weston.
While Red Bee is a brick-and-mortar business, er, a really cool barn, Vanessa's cards are one of the aforementioned side hustles.  She created a Pixels.com account where her stunning wildlife photography can be turned into practically anything — cards, prints, tote bags, pillows, phone cases, baby clothing, BEACH TOWELS… You get the idea.  Vanessa has something for every nature lover on your shopping list.
Not all my holiday shopping will be #hyperlocal, though.  Some people are getting AAA movie tickets, others are getting band merch… And my siblings, cousins, library volunteers, and landlord will all be getting books and goodies from Barnes & Noble.  Yes, that is the antithesis of "unoccupying the mall," but I'm hosting a book fair there on December 10 and 11 where my school library will get 15% of the proceeds!  I'll be using this money to bolster our very popular but small and tattered graphic novel section — as any librarian will tell you, the best loved books are the most beat-up.
If you want to support #booksforchildren, here's what you need to know:
Newfield Elementary School Book Fair
Barnes & Noble at the Stamford Town Center
December 10 and 11, 2016
Say you are with Newfield Elementary at the register and we get 15% of the proceeds!
Gift card purchase DO NOT count
Cafe purchases DO count
Selfies with Santa on December 10, 12pm-2pm
Coloring with your favorite librarian on December 11, 1pm-2pm
Can't make it that weekend?  Shop online at BN.COM/bookfairs from 12/12/16 to 12/16/16 and enter Bookfair ID 12034104 at checkout.
That's all I got, folks.  If you need more ideas, check out our previous #UnoccupyTheMall columns to learn about more great local retailers and artisans.  Where are you shopping this holiday season?
For more from Alternative Control, find us on Facebook, Twitter, Instagram, Soundcloud, and bandcamp.