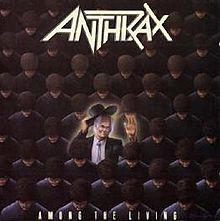 When asked about the albums that changed my life my head immediately goes to Among the Living by Anthrax. Back in 1987 you couldn't hear metal on the airwaves or even on MTV unless you were able to stay up past 11:00. My friend Cathy, who had the ability to stay up that late, told me about the song N.F.L. and I knew I had to have it. My memory is hazy, but I'm pretty sure that was the first Anthrax album I owned (okay, it was a tape) and I ended up going back and buying the previous album Spreading the Disease and the EP Armed and Dangerous. I was a big Anthrax fan in high school – to this day they're one of the only bands that I know all of their names (except, of course, those bands I've had to dinner.) I can remember beating out the intro to Indians on the lunchroom table, mastering the word "efilnikufesin" and just the sheer enjoyment of the music. Anthrax always had a message or a story behind the music. And the structure of the songs, with guitar solos and mosh sections, captivated me, along with Joey Belladonna. Ahh…Joey. (sigh) I remember going to see them at the Beacon (along with Metal Church…and was it Slayer?) I caught one of Dan Spitz's guitar picks in my hair and I met Steve from Staten Island who apparently couldn't remember my telephone number. Damn you, Steve from Staten Island.
Of course, my tastes in music are all over the map. Sometimes I'm not really sure why I call myself the Headbanging Hostess, other than the fact that both words begin with an "H." These days I'm living on a diet of Sugarland. Not headbanging to most people, but I still manage a good case of whiplash after a SugarShow. I first heard Jennifer Nettles singing Down In Mississippi (And Up To No Good) on a reality TV show. When I heard her distinct vocal style I fell instantly in love. Listening to Sugarland has made me a better singer. I've learned more about tone by listening to Jennifer than I've learned in all of my voice lessons. Truth be told, I like to live vicariously through her. In my imagination I could be her if I hadn't been such a problem teenager. But the fact is I was. One of my favorite Sugarland albums is Live On The Inside, a collection of live covers. Irreplaceable by Beyonce, Better Man by Pearl Jam, Love Shack by The B-52's – I am huge fan of covers when the band puts their own stamp on a song and Sugarland does exactly that.
My love of covers comes from Frankie Goes to Hollywood, believe it or not. Oh yes, I was in junior high when Frankie Say Relax was on every t-shirt in sight. I'd actually been in England over the summer so I felt as if I was the hip one, knowing about the band before they made it big in the States. I played Welcome to the Pleasuredome constantly and their covers of Born To Run, Ferry (Go) and San Jose (The Way) were just as special to me as the originals. Although, I must say, I wore out my Power of Love 45. The mix of originals and covers on Pleasuredome was my introduction musicianship and it's stayed with me.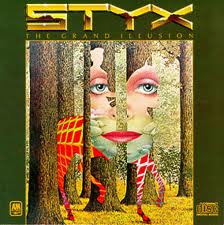 Speaking of musicianship, pretty much every guy I ever dated played an instrument. As such, most of my musical tastes have been influenced by the boys I was dating (not men, boys) – I can thank John DiBella for my love of Yes and Frank Zappa. I can also thank him for letting me live in his basement for a few weeks, but that's off-topic. Guitar players always have a special place in my heart (okay, drummers, too) and that brings me to yet another favorite album by another non-headbanging artist, Play by Brad Paisley. This album is Brad's homage to the guitar players that influenced him – he plays each song in the style of his guitar heros – Stevie Ray, Les Paul, Eric Johnson and more. In fact, when I realized Cliffs of Rock City was the Johnson tribute I promptly e-mailed John DiBella. I'm not sure he got it, but he didn't get me either. Ha! Add him to the list along with Steve from Staten Island.
I could go on and on about the music that shaped my life. When I was a kid I played my brother's records – Styx The Grand Illusion, Pink Floyd Wish You Were Here, Billy Joel The Stranger. My own record collection started with Annie and Sesame Street Fever. The first 45 I ever bought was Roxanne, Roxanne with The Real Roxanne on the B-side. The first cassette I bought was Iron Maiden, Maiden Japan. And now, as I'm reaching my 40th year, I listen to Ella Fitzgerald and Carole King and sing along until the cows come home. Music affects us in ways that no other medium can. Whether is the message behind N.F.L., the passion behind Brad Paisley's noodling or the hope of Tomorrow, music stays with you. And when you sing along, over and over and over (much to my parents dismay) it becomes a part of you that cannot be replaced. Or, shall I say, it's Irreplaceable.