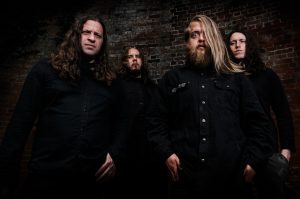 UK metallers Victus truly show the world their demons in the video for their new single "Demon."  According to the band, it's "a conceptual piece that questions self worth and morals" — and it's a dark one at that.  Directed by Victus guitarist Klayton Dean, the band takes the innocent and infuses it with a sense of foreboding that builds throughout the five-minute song.  This precisely crafted visual is a fitting complement for Victus' evil blend of sludge and blues.
Says the band of the video's storyline, "Everyone of us face battles — physically, mentally.  As a society, we tend to cling to this preconceived notion of what's right, and walk this fine line of programmed thinking, hating our outcomes before we even begin, dragging around this unnecessary burden. This is when we start killing a piece of ourselves and slowly, losing touch of who we really are, which is never a good outcome for anyone."
Let's just say that things don't go so well for at least one character in this video, who is possibly a representative of those societal expectations.  Watch carefully — demons are lurking where you least expect them.
To learn more about Victus, visit their website.
For more from Alternative Control, find us on Facebook, Twitter, Instagram, Soundcloud, and bandcamp.