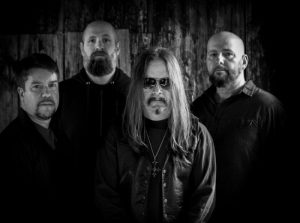 This week's edition of Listening Lately is ALL over the place…
Opening with audio of a Satanic ritual is one way to make a statement — and that's how the first track of Cult of Sorrow's new album  begins, with some kind of movie sample blasting into high-octane trad metal riffage.  The Ohio band is taking names with their sophomore release Invocation of the Lucifer, and writing those names in a certain nefarious black book.  Due out on September 20th via Black Doomba Records, this record is a must-have for fans of traditional doom metal.  My favorite track is "Souls of the Damned," which sounds like a Satanic take on Led Zeppelin's ballad "Since I've Been Lovin' You."  That's the most laidback track, if you could call it that.  "Burn," the only song publicly available at the moment, is more representative of the ferocious doom grooves on the rest of the album.
Preorder Invocation of the Lucifer in vinyl, CD, and digital formats on bandcamp.  #hailsatan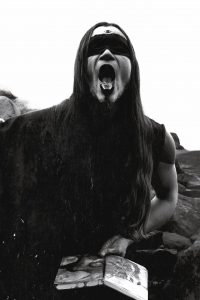 There are also some interesting physical reissues coming from black metal artist Markov Soroka via Prophecy Productions, from each of his projects/personas: Tchornobog's self-titled debut album, Drown's Unsleep, and Aureole's Alunar.  With song titles on Tchornobog such as "I: The Vomiting Tchornobog (Slithering Gods of Cognitive Dissonance)" and "III: Non-Existence's Warmth (Infinite Natality Psychosis)," this bro is definitely a connoisseur of what Invisible Oranges hilariously dubbed "death metal English" in this 2013 article.  But what's the music like?  Tchornborg is brutally esoteric, or esoterically brutal.  I think my black metal cousin would like it.  Aureole is atmospheric, while Drown is distinctly more doom-influenced than the other projects.
Dive into Markov Soroka's music with streaming, digital downloads, and physical preorders here.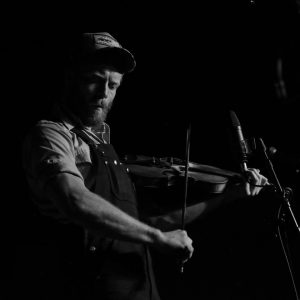 The final blurb is about an artist I've been looking forward to listening to since he landed in my inbox several weeks ago: Matt Heckler.  Folk music isn't usually what Earsplit PR is dishing out, so the promo piqued my interest.  So did the loaded description of Heckler as "the fiddle player you want to believe still exists. Veering from Appalachia to Romania, Ireland to the Catskills, his music is definitively unsafe and entirely his own. The Catskills, where he grew up, and the Carolina Appalachians he calls home are old mountains, but the kids there are more likely to be raised on punk than old time string bands."
Okay bro, we get it, you've been a lot of places and you play an instrument that's not an electric guitar.  But Heckler's debut album After The Flood, released on vinyl by Anti-Corporate Music on July 12th, lives up to the hype.  In some songs, he weaves sad stories over acoustic guitar, banjo, and the thrum of a standup bass; in others, it's just voice and violin.  You can just picture Heckler jumping off a boxcar and walking into a rundown saloon carrying his trusty fiddle, ready to redeem the bitter drunks with song.
Order an After The Flood LP here — and if Heckler's coming to a venue near you, be sure to hear some of his redemption.
Matt Heckler's remaining tour dates with the Lost Dog Street Band…
7/30/2019 Cannery District – Bozeman, MT w/ Charlie Parr
8/01/2019 The Bartlett – Spokane, WA
8/02/2019 Tractor Tavern – Seattle, WA
8/03/2019 Mississippi Studios and Bar – Portland, OR
8/06/2019 Mystic Theatre – Petaluma, CA
8/07/2019 Cornerstone – Berkeley, CA
8/08/2019 The Catalyst – Santa Cruz, CA
8/09/2019 Troubadour – West Hollywood, CA
8/10/2019 The Casbah – San Diego, CA
8/11/2019 Last Exit Live – Phoenix, AZ
8/13/2019 Tower Theatre – Oklahoma City, OK
8/14/2019 The Bottleneck – Lawrence, KS
8/16/2019 High Noon Saloon – Madison, WI
8/17/2019 7th St. Entry – Minneapolis, MN
8/18/2019 Martyrs' – Chicago, IL
8/22/2019 El Club – Detroit, MI
8/23/2019 The Auricle Bar & Venue – Canton, OH
8/26/2019 Acme Feed And Seed – Nashville, TN
What have you been listening to lately?  Leave a comment!
For more from Alternative Control, find us on Facebook, Twitter, Instagram, Soundcloud, and bandcamp.