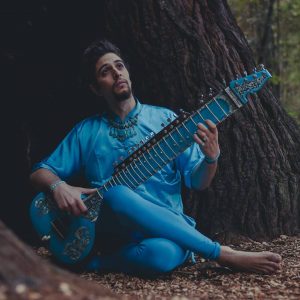 A lot of world music has been making its way to the ol' inbox!  This weekend, we took a look and listen to "Liquid Lotus," the title track from Mah-Ze-Tar's upcoming debut album.  This Santa Barbara-based artist sings in Hindi, Farsi, and English and incorporates exotic instruments like sitar, oud, Turkish saz, dilruba, and bansuri into his unique electronic music.  For real, I'm not even going to pretend I've heard of the last three instruments on that list…. Until now!
Some scenes in "Liquid Lotus" are self-serious, like the Awaken With JP yoga videos except not humorous.  Mah-Ze-Tar matches his entire outfit and jewelry with a really cool-looking turquoise acoustic/electric sitar that he plays in much of the video.  He also spends some time contemplating life on a giant piece of driftwood and walking in the ocean with his cool instruments; a chick with a light-up hula hoop joins us midway through.
While I may think the guy is overdoing it with his fashion choices, the Mah-Ze Tar's music is where it's at.  "Liquid Lotus" is soothing, but three distinct song sections keep the listener from getting sleepy.  Mah-Ze-Tar says in the album preview video below, "The goal of the electronic music is to create a sound escape, a place for me to be able to bring the tradition in a way that reaches people, in a way that makes sense, in a way that's relevant."
This artist has an "ultimate vision to fuse traditional music of the East with modern electronic composition as a form of cultural preservation."  With extensive touring on the West Coast and appearances at Burning Man and other festivals, it seems he is well on his way to achieving this.  Liquid Lotus had a release date of September 1st 2018, but so far only the single has come out online.  Connect with Mah-Ze-Tar at the links below to stay updated:
YouTube
Website
Facebook
Instagram
For more from Alternative Control, find us on Facebook, Twitter, Instagram, Soundcloud, and bandcamp.
This post was sponsored by Independent Music Promotions.  All opinions are our own.