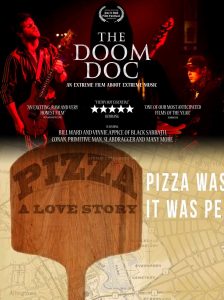 This edition of AltCtrlToob features a few of my favorite things: doom metal and pizza — and documentaries!
Thanks to a heads-up from a member of the New England Stoner and Doom Music Facebook group, I checked out The Doom Doc the other day.  This chronicle of Sheffield, UK's underground doom scene has been several years in the making and just came out on YouTube this month.  It focuses on an local outfit called Holy Spider Promotions that's putting a festival together, but also has commentary on the doom genre from godfathers like Bill Ward and Kirk Windstein and an interesting side story on Conan and Black Bow Records.  Those guys really know what's best in life — putting your friend's vinyl release on your credit card and thus instantly becoming Owner of a Record Label.  And of course, it's grown from there…
Joe from Holy Spider Promotions and the band Kurokuma gave a fitting explanation of why this genre is appealing: "You don't really go to doom, sludge, and stoner shows […] to hear someone singing nice songs. You go because you wanna feel like something heavy hitting you in the chest.  […]  We wanna do something that feels like you're on some other plane of existence."  I also got a lot out of the rundown of doom's subgenres and terminology in the beginning, and felt validated by the folks in the documentary who'd found a love of stoner metal without smoking pot.
This is seriously worth an hour and a half of your life.  Visit The Doom Doc on Facebook for information on giveaways, DVDs, and more.
Across the pond from Sheffield, there's an East Coast city that makes the best pizza on Earth: our own New Haven, Connecticut.  Director/producer Gorman Bechard is setting out with co-producers Dean Falcone and Colin Caplan to tell the story of Sally's, Pepe's, and Modern — for those outside the area, three of New Haven's oldest and most respected pizzerias.  (Although I hold the biased opinion that Apizza Grande North Haven is really the best of them all…)  Their documentary Pizza, A Love Story doesn't have an official release date yet, but the trailer already has me salivating:
Stay tuned for more on Pizza, A Love Story — Alternative Control aims to be on the forefront of third-generation Italian-American doom metal journalism, especially if it means going out for pizza!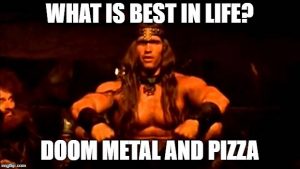 For more from Alternative Control, find us on Facebook, Twitter, Instagram, Soundcloud, and bandcamp.