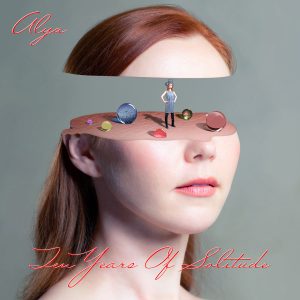 Russian-born journalist Alya has switched gears to a more artistic medium: indie pop music.  Her new album Ten Years of Solitude has been making waves around the world — "Puppet Strings" has charted in Europe and "Animals" won Best Music Video in the California Women's Film Festival and Los Angeles Cinema Festival of Hollywood, in addition to getting named one of 2018's best indie releases by the Ditto Playlist on Spotify.  Plus, her video for "Heart Shaped Hole" has garnered over 3 million views on Youtube at press time.
The act of painting seems to be a metaphor for self-exploration in this colorful yet minimalist video.  An anonymous mummy guy guides the singer through life in a "heart shaped hole" — is that a nod to Nirvana? Is the album title a nod to Gabriel Garcia Marquez??  I'm not sure on either, but check out the video for yourself below….
One question I have for Alya, who is now based in Los Angeles, is how she employed her journalism background in the promotion of her music.  Another question — how does her success on Youtube and Spotify translate to making a living from her music?  Perhaps we'll get to interview Alya in the future!  In the meantime, connect with her at through these links:
Website
Facebook
Instagram
Twitter
Bandcamp
Spotify
Youtube Channel
And for more from Alternative Control, find us on Facebook, Twitter, Instagram, Soundcloud, and bandcamp.
This post was sponsored by Independent Music Promotions.  All opinions are our own.