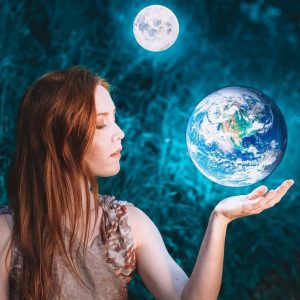 Alternative Control focuses mainly on metal music, but every once in awhile we come across an artist from another genre that's too perplexing to ignore.  Alya is one such act.  The indie pop/folk musician Alya released her debut album Ten Years of Solitude in January and has been making waves on Youtube and Spotify — and in real life.  Born in Russia, the former journalist made a drastic life change to pursue a more creative career, and so far so good!  After having a listen to Alya's album, we couldn't help but send her a few questions…
The title of your album is reminiscent of a Gabriel Garcia Marquez book, A Hundred Years of Solitude.  Were you inspired by that work?  How about Nirvana's song "Heart Shaped Box," in reference to your song "Heart Shaped Hole"? 
Indeed it is, and I am happy that people can actually  recognize  it  right from the cover.
Ten Years of Solitude is a conceptual album.  It is my personal story of becoming an artist,  living my new life, coming back to something that meant to happen. Originally I wanted to name my record "160 Light Years From the Sun" based on the distance star system Theta Serpentis A ( also named Alya) from the sun, but then something clicked and Marquez's book came back to my mind.  His story is about the endless flow and repetition of life, fate, personal and global solitude.  When I worked on my album (it took almost ten years), that is what I felt.
I  felt hopeless and alone, even having my family behind me. It was that anxiety that brought Marques to the surface again.  In some ways my album is a book with different chapters. That is why tracks are so diverse.
As for Nirvana, we do not know much about real meaning of the song.  If, according to Courtney Love, it is about her vagina, that is far from my album.  I am more about feelings and internal work than bodies.
 In the same vein, what are some of your musical influences?
I do not consider just musicians as an influencers for me. The whole golden age of Russian Classical literature, Tchaikovsky, Russian and Japanese folk, fairy tales, Salvador Dali, Monet, Bjork, Massive Attack, Madonna, Daft Punk, Tom Waits, Beatles… The list is endless.  I really love to mix, and when I work on the music I trust my gut and continue to stir until it feels right.
Tell me about the process of writing and recording your album.  There is some beautiful instrumentation on there!
The story of this album is unique in some ways.  Even though it is produced by American producer David Holman (who did a fantastic job), it is sort of compilation of my collaboration with different artists.  Some of the songs are life recordings, some are orchestral, some more electronic. What unites them – is honesty and talent of all participants.  It is all real.  There is no fake note in the entire album.
The song "Romano" is sung in Japanese.  What is the song about?  (Probably not the Italian cheese of the same name?? lol)  
The song is part of my upcoming album in Japanese and it is fantasy story about the place Romano, where the heroine meets her soulmate.  When I was a teen I read the story about the girl that was living "double" life: one when she was awake, one in her dreams. That was the inspiration.  The name Romano is something that sounds for me like Rome, something Italian.
What drew you into Japanese language/culture?
I was studying Japanese art and language at Moscow State University.  Love the country and language! I'm still talking lessons.
What inspired you to make the switch from journalism to music?
Participation in a Famous Talent show audition in Great Britain a while ago. I just booked a ticket and went there for several days from Moscow.
That was the moment when I told myself — I think I am living somebody else's life in my office. Journalism in Russia is not inspiring anymore.  It was not the show that triggered the move, it was me suddenly realizing that I am looking in my everyday job for an excuse to start working on my artistic self expression.  I was ready to give up many  times, but coming back to Marquis) you cannot run from your fate.
Has your background in journalism/media helped you in navigating the entertainment industry?
My PR experience did. I am treating ( and did it from the start) my music project as a brand, start up. Very often independent artists  focus mainly on music, but that is not what makes a magic, in my opinion. You have to have the vision of what you creating, you have to have a story.   Paradoxically my journalism background in some ways plays a "bad guy" part in my music career.  I was mainly working as a military and political journalist and it is hard for me not to over-think, not to overload things, for example when I am writing lyrics or script.  Bad habit of being too serious.
What's it like living in LA?
Like paradise 🙂  So many Japanese people!
When I first landed in Los Angeles many years ago, I instantly felt home.
You are donating the profits from this album to the Naked Heart Foundation.  Can you tell me about that organization and how you formed a relationship with them?
I got to know Natalia Vodyanova (the founder) through my friend. She is Russian star, supermodel, and wonderful inspiring lady who helps children with disabilities for many years. One of my collaborators has a child that is special and requires a lot of support and help. It felt right to send money to that direction, very symbolic.  It helps my motherland country as well.
For more from Alya, find her at the links below:
Website
Facebook
Instagram
Twitter
Bandcamp
Spotify
Youtube Channel
And for more from Alternative Control, find us on Facebook, Twitter, Instagram, Soundcloud, and bandcamp.