Boston noise punks Aneurysm lay down a chaotic yet melodic racket on their recently released debut album, Awareness. While it draws on the greats like Nirvana and the Jesus Lizard, they add a dash of punk urgency and gritty rock n roll to the proceedings to create a sound all their own. This is self evident after a couple of spins of it.
Even better, the band slay in a live setting, which ultimately brings us to the point of this intro. They are playing the Brooklyn Café in Waterbury on February 16 with Intercourse, Shots Fired, Homeless Birthday and Anxious Wave. (Event here.)
So of course we had to get the lowdown on this killer new band ahead of the gig.  We sent guitarist Dan Bahto and vocalist Michael McGee a bunch of questions and below are their answers. (The band also features guitarist Randy Slavinski, bassist Archie Doyle, and drummer Mark Mustacci.)
Basically, this amounts to a can't miss show. Awareness is drawing raves in the metal press, and the band is starting build up a buzz. (Full disclosure, I wrote a glowing review on it for another publication.) You would be a fool to miss out on this show. It's going to be a rager.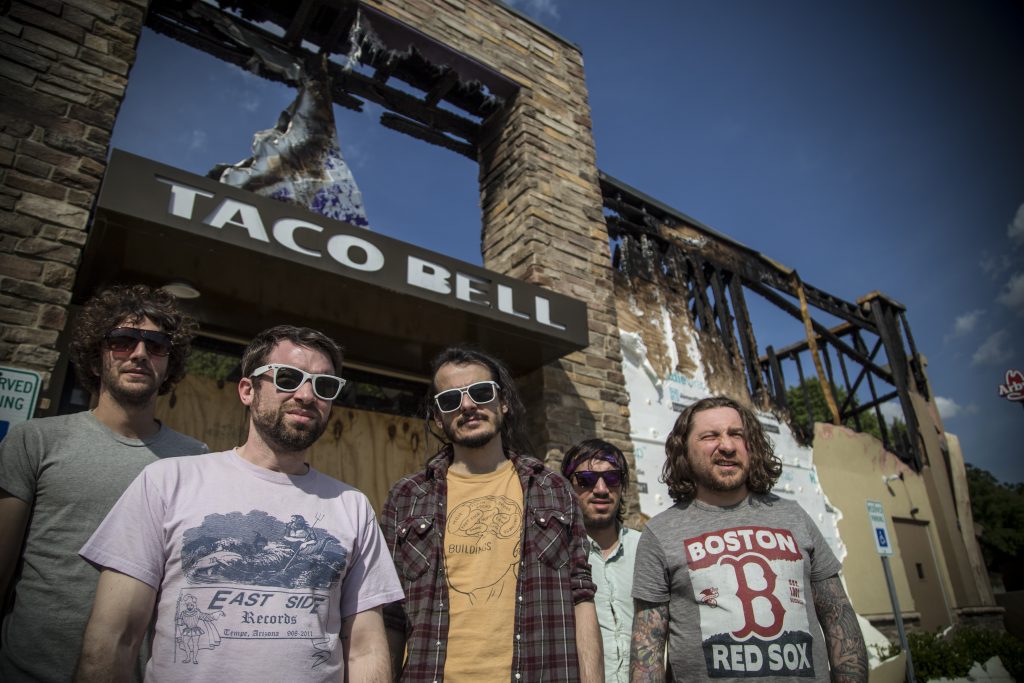 The band originally formed in 2014 but instead of just diving head first into record a full length, you took your time, releasing a couple of 7″'s and hitting the road pretty hard. Why did you decide to take this route?
Dan Bahto (DB): When we first started we had a bunch of songs that we wanted to demo just to see how they sounded… They came out a lot better than we could have hoped. Paul at Tor Johnson heard it and wanted to release some of it, so we wound up doing "Veronica" with him. We self-released "Stop This Ride" so we could have something to sell when we started doing more shows and touring. After that, we worked on just putting together more songs, and got better at playing them until we thought they were good enough to record and release for a full length.

As a follow up, do you think Awareness turned out better because you took your time? Why or why not?
DB: Absolutely. We are so much of a better band now than when we stated.
Awareness is raw, yet catchy. Was that the result you were aiming for? How so?
DB: Oh totally. We were able to make the record we have been hearing in our heads since we started. Luckily, we were able to work with exactly the right people to make that happen. Chris is a great engineer, and GodCity is such an amazing studio with a distinct sound. On top of that, Will is the best when it comes mastering — he had done our first two 7"s and we were really into how those came out. Awareness is literally the exact record we had wanted to put out. I am super stoked!
What type of subjects do you tackle in the lyrics?
DB: Being alive in today's world.
Michael McGee (MM): A lot of the lyrics are stream-of-consciousness rants or narratives from a different perspective of my own. Stuff that ranges from mundane annoyances to differences in the way that people get treated by police — I like to write in a narrative sense, even if it's coming from perspectives other than my own. I like to imagine what it's like to be inside the head of someone with a completely different thought process. Then there's the usual personal subject matter, loss, anxiety, hard times, etc.
How did you end up recording the album at GodCity?
DB: Mike had introduced Chris (Johnson, bassist of Deafheaven and Doomriders) to me while we were trying to figure out where to record our demo, he goes: "You should meet my friend Chris, he could probably record us at his home studio."  When we actually met and talked about music we found out we were into the same shit and liked a lot of the same things… Heavy music, punk, ska and everything. It was an instant connection. He totally got what we wanted to sound like recorded, and I knew he could pull it off based on his previous work. Being able to record at GodCity was a total random occurrence and the icing on the cake. We were originally going to record at another local studio, and a few weeks before that session Chris said he had a day become available at GodCity. Since some of our favorite records were recorded there we jumped at the chance. So one day in August we went into GodCity with Chris and recorded the LP and a few other extra songs.
How were you able to get Mark McCoy to do the cover art for Awareness? How do you think the cover art represents the themes put forth on the album?
MM: That was all Dan, all the way. It's perfect and we're all happy with the way it came out. I mean, I had a Das Oath flyer in my wall for years! It's mindblowing.
DB: Honestly I just asked. I have been a fan of his music/art/label for like 20 years and have always wanted to work with him in some capacity.  So when we were trying to figure out what we wanted for art for this record I thought 'fuck it' and sent him a message. I didn't really expect to hear back but not only did he reply, he said he would do it. We were all blown away — not only did he totally get what we were doing but he knocked it out of the park with the art. It totally kills and goes with the feel of the record. I couldn't imagine anything else being the art for this record, it fits perfectly.
Since the band has formed, you played about 200 shows. What was the most memorable? What was the least memorable?
DB: My most memorable show by far was when we played Beauty Bar in Las Vegas with Goya. It was one of the last shows of that tour and we all had been friends for so long, it was just an awesome party. It was the best show I think we ever played, and Goya were equally awesome.  Least memorable was my birthday show a few years ago in New Hampshire. The night started off with me getting iced… twice… It went downhill from there.
MM: On tour with Goya in Portland OR. Great show, packed venue. I got daydrunk and showed up to the venue in an Uber, wasted. I threw up on stage, mid-song. Luckily, the bathroom was right off to the side of the stage so I got myself together, hopped back onstage and finished the song. Yikes. Least memorable? I don't know, there's definitely a story from every show. All I have to do is look at the flyer and I'll usually remember something ridiculous that occurred.
How is the Boston music scene these days? How do you think the band fits into it or doesn't?
DB: Boston is cool, still. There are a ton of good local and touring bands that come through and we're definitely able to put together and play some awesome shows. For years, Boston was known for police crackdowns on DIY spaces, but there are still some cool show spots popping up here and there — some lasting longer than others. But even with the crackdowns, it's not all bad news. As far as fitting in, we just play what we play… With whoever wants to play with us. We love playing shows, and try not to pigeonhole ourselves with just one style of music. We're into all types of music and love to party.
MM: Boston is a pretty intelligent city that has a lot of bands with diverse backgrounds. It's definitely the kind of place that brings out the best in musicians. I'd say that there is a healthy kind of competitiveness going on, like siblings striving to make the family proud, yet prove to the locals that we can hang with the best out there in the world. The housing price increases in the area have led to gentrification, even in our Allston haven which was semi-almost-affordable until recently. Things are changing overnight and the punks and poor hipsters are being priced out. There's definitely an undercurrent of anxiety in a lot of the local music I'm hearing lately.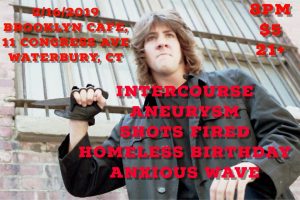 For more from Alternative Control, find us on Facebook, Twitter, Instagram, Soundcloud, and bandcamp.