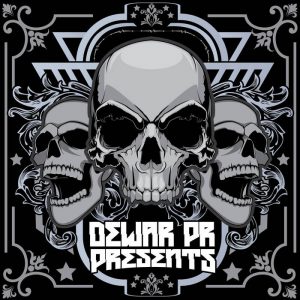 Alternative Control's not the only one around here putting out awesome comp albums.  Ontario-based heavy music marketing agency Dewar PR is celebrating half a decade of launching underdog metal bands into the worldwide media arena — as well as working with international record labels including Prophecy Productions, Black Bow Records, and The Sign Records to name a few.  What better way to celebrate than with a compilation?
Says Curtis Dewar, the Canadian igloo-dweller behind all this PR wizardry,
"I'm pleased to release the latest in our series of compilations! This is the fifth year of Dewar PR being in operation and I'm excited to have the chance to work with great new bands.  Download the compilation and support (with money) any of the bands that you enjoy!
If you'd like more information on promoting your next release with Dewar PR, please email me at [email protected]!"
One of my favorite tracks is UK hardcore band Allfather's "By Sword By Famine By Plauge."  You'll also find tasty tunes on there from False Gods, Stump Tail Dolly, Dust Prophet, Death on Fire, some band named after a bird, and more.
In all seriousness and in the interest of transparency, I'm looking at underground music promotion from several angles: the hobby journalist receiving 50+ PR emails a day and deleting most of them, the freelancer composing the press releases that end up in those PR emails, and the band member trying to get her music heard.  Curtis gets s*** done.  In addition to being Rock It Write's favorite client, he's secured high-profile press coverage for my own band Owl Maker and scores of other bands from every climate and time zone.  He also gives actionable marketing tips through Instagram and the Dumb and Dumbest Podcast he records with Matt Bacon of Dropout Media.
How Curtis does all that from the igloo where he may or may not live, where his small children are perpetually home sick with the flu, I don't know — but if your hard rock, metal, or punk band is ready to take things to the next level, contact Dewar PR.
Not ready to take the plunge?  Download Curtis's free social media guide here.  Maybe join the Instagram marketing challenge he has coming up.  And in the meantime, if you find something you like on the Dewar PR Winter Compilation, follow Curtis's advice and support the bands *with money.*  Now excuse me while I go buy this Death on Fire track…
For more from Alternative Control, find us on Facebook, Twitter, Instagram, Soundcloud, and bandcamp.  Stay tuned for our compilation Volume Doom, out February 22nd!