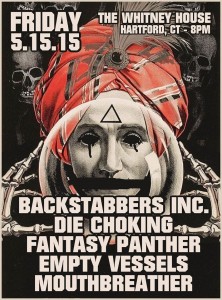 For those of you who live in Hartford County, like me, and complain that there aren't a lot of good loud rock shows taking place in that neck of the woods, you can now shut up, because there is going to be one killer show taking place on May 15 at the infamous Whitney House in Hartford.
Long running metallic-hardcore tyrants Backstabbers Inc. will be headlining a show that also features some killer Philly-based extreme metal acts in Die Choking and Fantasy Panther. In addition, Connecticut based noise-doom duo extraordinaire Empty Vessels will be playing, along with in-state brothers and sisters in crust, Mouthbreather.
So, this is one stacked line-up in an intimate space. There is no reason why you shouldn't be attending. Of course, remember to bring some money for the touring bands, as well as a little extra for merch, and whatever type of "party favors" you favor. You can also share the flyer and Facebook event to help spread the word.
See you there.