Empty Vessels are a two-piece punk band out of New London County, comprised of Allison (guitar/vocals) and Justin (drums/vocals), who play it loud and proud. We could split hairs, and start talking sub-genres, but let's just say if you want something noisy and full of attitude, they will definitely fill your need.
In the three short years they've been together, the band has gone from being a four-piece to their current incarnation as a duo. In addition, they've become road warriors logging many miles on the road, including a West Coast tour and a stint at Fun Fun Fun Fest in Austin, Texas.
Their new album Seizures Within Reason, was produced by Converge guitarist Kurt Ballou at his Godcity studio in Salem, Massachusetts, and expertly captures their rough and tumble live sound on wax.
With an impending gig at Cafe Nine on February 6, along with fellow noise makers, Intercourse, Sperm Donor and Kings And Liars, we thought it would be the perfect time to send Allison some questions and get her thoughts on a variety of subjects pertaining to the band.
Enjoy.
When you first started the band, it had four members. What were the reasons to trim it down to its current state as a two piece? 
Yeah, for the first year we were together (2012-2013) we had two other members. They didn't want to do it anymore and said they wouldn't get offended if we continued or got new members. Justin and I still wanted to play and still had shows booked. We didn't feel right with the idea of replacing them, so decided the most respectful thing to do was to not get any new members and to create all new songs. With shows coming up and not having much time, we came up with a whole new set in only 2 weeks! Most of those songs we made within that time are actually on our Seizures Within Reason album.
What are the advantages of being a two piece band? Sonically or otherwise? What are the disadvantages, if there are any? 
For me, it took a bit getting used to being 50% of the focus… I had always enjoyed kind of being in the background. There are definitely a lot of advantages though.  Only having to worry about yourself and one other person is way easier. Making certain decisions is better since Justin and I are usually on the same page with things.
Disadvantages are that we have more equipment now than we did originally and having only two members to carry all of that kinda sucks sometimes! Also, splitting costs between two people, rather than a full band can get pretty pricey.
You recorded your debut album, Seizures Within Reason, with Converge guitarist and in-demand loud rock producer, Kurt Ballou. What made you decide to work with him? What were your reasons for going with him?

Justin and I have been fans of Converge and Godcity for years. Kurt gets a huge sound from his recordings and we were very excited to hear how we would come across there. Sometimes it's tough to capture how we sound live on recordings and due to that I wanted our recordings there to be as close to our live sound as possible. To help us better capture that, he had us set up basically how we normally would for a show, both played through the songs in the same room together and recorded each song as one straight track (except for the vocals and a low secondary guitar for stereo, which were added in later.) We didn't dub in if any mistakes were made or do any copying/cutting/splicing. If Justin or I messed up even a tiny bit, we'd have to do the entire song over. We didn't add in a bass guitar or anything that isn't there during our live set. It's just exactly how we play live and what we are: guitar, drums and our 2 vocals.
As a follow up, how was it like working with him?
It was great! He is very easy to work with and be around. He understood exactly what we were going for and gave us a lot of freedom to experiment with different ideas.
You tour a whole bunch, when compared to other bands in the scene. What are your motivations for touring so much?
I think a bunch of bands from our area travel around a lot, which is really cool. I always get excited when we are in other states and I see stickers of bands from our area up. We both like to travel and if we have the ability to see new places and play shows at the same time, then that's perfect. We were both in bands in the past that had toured, so we are both pretty used to it. I somehow seem to get some of my best sleep when squished in the back of a car or van.
What was it like playing the Fun Fun Fun Fest in Austin, Texas? 
I have been wanting to go to Fun Fun Fun Fest for so many years! One year I even had tickets to go but then realized I didn't have enough for the flight and driving that far wasn't able to happen. So it was a pretty exciting thing that after all these years I was finally able to go, all because I was actually playing it! We were very honored to be on a Nites show and to have the opportunity to experience the fest. Texas has been very kind to us and it was very cool to do 5 shows there in 3 days during that particular tour.
Your home base is New London, which has a pretty good rep in state for a having a diverse and thriving music scene. What are some of the advantages of being from New London? Are there any downsides?
We are both actually about 10 minutes away from New London, although Justin has worked and spent most of every minute of every day in NL. Since most people know where New London is, I've just found it much easier to say, "We are basically from New London" then to get into specifics.
The music scene is great here and there are people who are always trying to make it better, whether it be putting on shows at diy spots or putting together music festivals. There's usually always a show going on somewhere. It's hard to be bored on a Friday night here.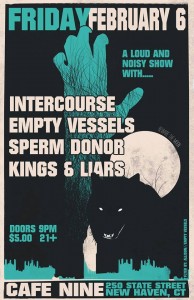 What about Connecticut? What are the advantages or disadvantages from being based here?

We are both not originally from Connecticut so we know the pain of having to travel pretty far just to get to a different state. It's a lot easier being in CT now and being right in the middle of a bunch of awesome scenes. From where we are it's less than an hour to Providence, less than 2 hours to Boston and 2 hours to NYC. It's pretty great.
What are the future plans for the band? More touring? Another album?
We have a ton of new songs and are hoping to do another recording soon. For anyone who hasn't heard our most recent release, they can download it online at www.emptyvesselsband.bandcamp.com or buy a physical copy (only $5) or some merch at www.emptyvessels.bigcartel.com. Any money we make goes right back into future recordings, so I encourage people to check it out! As for touring, we are planning on doing more dates around the U.S. and a Canadian tour this spring/summer. Most of the time our tours tend to pop up pretty last minute, so I never really know what we might be doing 1 or 2 months down the road. I always update all our upcoming show/tour info though at www.emptyvesselsmusic.com and of course on our Facebook pages (yeah, we have two): www.facebook.com/emptyvesselsCT and www.facebook.com/emptyvesselsmusic