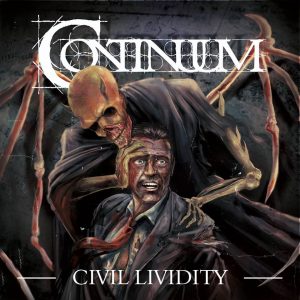 Continuum, n:
"A continuous sequence in which adjacent elements are not perceptibly different from each other, although the extremes are quite distinct."
Before reviewing this recent release from one of Connecticut's most prominent local metal bands, I looked up the definition of "continuum" for shits and giggles. What I found was an entire article compressed into one sentence; the textbook definition encapsulates the evolution of this remarkable band, and how their latest effort relates to their previous studio offerings. Not to employ too gratuitous a pun, but Civil Lividity is this band's defining effort.
Continuum's
music hasn't overtly changed. Which is a very, very good thing. The compositions and performances on their debut
Rise & Fall
were outstanding, and it remains one of my favorite albums out of our flourishing Connecticut Metal Scene, ever. To the point, the "adjacent elements" of songwriting and execution "are not perceptibly different from each other". The throes of rage and the acceptance of fate remain, along with the alternately blistering and intricate guitarwork, the concurrently devastating and nuanced drum arrangements, accompanying vocals that flow seamlessly from imposing growls to fear-inducing screams to haunted, eerie melodies.
However, the extremes are quite distinct. There was incremental improvement in the production of their follow-up, 7. It was a much better representation, but still not an appropriate gauge of their effectiveness onstage. By choosing Dexter's Lab as the vehicle to produce their latest opus, and enlisting Nick Bellmore in the process, Continuum have finally captured the vitality of their live performance to blast in your car, or blissfully deafen yourself from the comfort of your own home.
To suggest a fitting allegory… In the way that a lot of devout, old school fans maintain that Kill Em All is their favorite Metallica album, I loved Rise & Fall. But Metallica's majestic leap in the realm of recording quality and composition to Ride the Lightning cannot be ignored. That growth is mirrored in Continuum's 7, and following that line of thought, Civil Lividity may be this tenured local act's Master of Puppets. A lofty comparison, perhaps, but one that any worthwhile metalhead can understand, and would almost certainly agree with.
The opening salvo assaults the listener with an ominous, heavy riff and the growling of
Hate
.
Hate
.
Hate
.
Hate
. And you know it's Continuum. This is the first page of a story that is told over the course of five distinct tracks that stand firmly alone, but also weave a tale as a whole. It is a familiar theme if you watch the news, unfortunately, and one that fits comfortably into post-apocalyptic scenery reminiscent of the Walking Dead or
28 Days Later
. Not to say this is a zombie story; only insofar as that is our current path as a society. This is a look back on the times we live in, after the inevitable end that Continuum predicts. The concept was clearly a focal point of this project, and the work that obviously went into the lyrics and execution of their story has paid off with a triumphant chronicle. A rarity in the days of mp3s and Spotify, it is genuinely worth the price of an extra value meal to purchase the physical CD and follow along with the lyrics. The concept suits their stage- and social-media-persona, and while the band never suffered from a lack of identity, this project now exudes a character and command that is earned by years in the trenches together.
As a group Continuum thrives, but each musician makes their individual presence known. I've said in two previous reviews and repeat emphatically: "Darrin Yardley is a beast." The percussionist has always held firmly to a perch atop a mountain of outstanding Connecticut drummers, and I've even discussed with some of these also-amazing artists how proficient and tasteful Yardley continues to be, bringing the thunder but always blending beautifully into the brutality. Each member of the band commands that same respect among their peers, including bassist Tony Mica, who somehow manages to be the existential adhesive that binds all of the raging, chaotic elements together, and provides the power that pulsates beneath the roiling surface. Bryan Reilly and Jay Niezgorski comprise a guitar unit that alternately hooks the listener with groovy and catchy riffs, stuns them with sheer heaviness, and impresses with surprising intricacy. The back-and-forth guitar solo that erupts from the opening track "Origins of Hate" displays just how well these two very different axemen co-exist, and I have to say it is one of the stand-out moments on the album.
While the entire band enjoys their best recorded representation on this disc, possibly the greatest individual beneficiary is vocalist Brenda St. Amant. An impressive growler by any standards, St. Amant can finally be heard in a manner that conveys her rare talent. Both the deep, guttural growls and flailing, maddened screams are finally captured to capacity. Even more notable, in my opinion, is how well the clean vocals come across. The title track is a unique showcase for this facet of her performance, although all of the singing is clear and deftly wrangled by Nick Bellmore. What I enjoy about St. Amant's performance in any venue is that the wilting, feminine vocals contrast sharply with even the strong, commanding clean tones, let alone the imposing aggressive vox.
Aside from the aforementioned bright spots, including the opening number guitar solos and demented siren's song during the tune "Civil Lividity", the fourth track "Faith Absolves" is an all-around catchy composition, with an exceedingly grabbing bridge about two-thirds of the way through. Additionally, one of my favorite things about the CD as a whole is how it ends; this story is not over. It isn't an annoying, negligent false ending, nor is it a desperate cliffhanger that leaves you insane with anticipation. The album simply ends where it is supposed to, but without an obnoxiously-large and excessive sendoff, so the listener is left with the feeling that they wish there was more.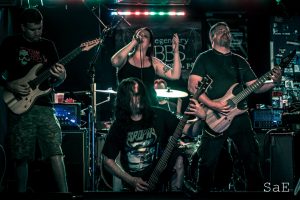 I very strongly suggest seeing Continuum at your earliest convenience, whether you've seen them before or need to experience the chaos for the first time. The one thing even Dexter's Lab can't truly convey is the stage presence and energy that these cats explode with every time they perform.
Upcoming Shows
March 3rd

at The 5 Spot Bar & Grille in Ludlow, VT

March 11th

at Shore Metal Madness in Brighton Beach, NJ