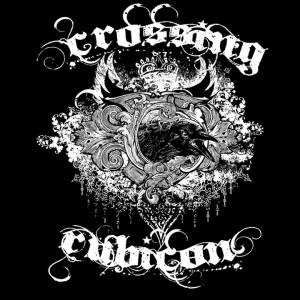 Polished. Professional. Powerful. Three words that every artist should aspire to embody, words that I don't use casually and never misappropriate. These words apply in earnest to Crossing Rubicon, an unsigned act out of Bristol, CT who has stormed the Webster Theater many times in recent years, opening for national acts on the main stage and headlining the Underground. These three words also describe the video they just released for their song "Perfection in Life," their first attempt at video production.
A lot of bands start by taping a performance at a live show, then laying their meticulous studio recording over it. Others get some film student to eagerly build their reel with something that's serviceable, if sub-par. Crossing Rubicon went to Alex Leyton, a filmographer with credits on major motion pictures including You Got Served, The Cable Guy, Beverly Hills Cop III, and ("Party On!") Wayne's World 2. It's abundantly clear when you see the crispness of the cuts, the clarity of each shot, and the story that the piece tells, that a professional was at work on this endeavor. Gauging by the Producer and Concept credits he shares on the piece, you can tell that Leyton wanted to make art with a hungry young band.
Scott Wawrzyniak is the other individual credited with the Concept. Wawrzyniak is the group's frontman, 'Scotty Anarchy' being his stage persona — which is understandable, because who can say, spell, or pronounce 'Wawrzyniak'? He cast himself in the role of the distracted vocalist, too befuddled by chemicals to pursue the unified goals of the band. He starts in rehab (court imposed? I'd wager yes) and flashbacks ensue, offering glimpses into the band's height of prominence and depths of squalor. Clips of them rocking out hard in full regalia, with a 'look' and all the tightness of a project that's toured for 20 years, contrast sharply with band blow-ups, bathroom fixes, and ultimately a full-on intervention. It starts and ends with a strung-out Anarchy in his therapist's office; was it all a dream? Or was it recollection?
To be praised alongside the beautiful camerawork and the pace of the storytelling? Sparks Savoy, who did hair. I say this because, like evil Spock had a goatee and Tobey Maguire was sinister with an emo moptop in Spider-Man 3, Scotty's digressions are reflected in his deflated quaff, bleak in a bluer hue. He slams the bathroom door to shoot up, and his otherwise pristine locks are hanging loosely. If his hair isn't right, you know something's wrong… But seriously, everyone looks terrific, from hair to costuming, playing to the discerning camera with an abundance of energy and doing all their own stunts in the storytelling scenes.
The effort as a whole, like so much of what Crossing Rubicon does, is somewhat polarizing. They're a little poppy for many metalheads, but undeniably catchy. They don't have a record company financing their wardrobe, but they do have a cohesive look. And while one of the members is – gasp! – a woman, drummer and backing vocalist Brandi Hood dispels the tired stereotype that female musicians in metal bands are typically gimmicks or eye candy.  All in all, "Perfection in Life" is a perfect example of the life Crossing Rubicon leads. Minus the illicit drug use, ideally. But polished, professional, and powerful.