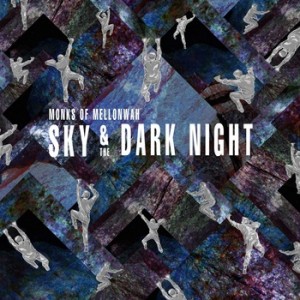 I've had the pleasant opportunity to review the new EP entitled Sky and the Dark Night from upcoming Australian progressive indie rock band Monks of Mellonwah. The EP is a single composition split up into three sections, which blend into each other so naturally that I'm almost puzzled as to why they would choose to break it up. Despite the fact that the music gradually morphs into and melds different genres together, there's never the feeling that the band was simply plopping in various forms of music just to seem experimental. The whole EP carries a singular but diverse musical idea.
One trait that brings the pieces together is a strong cinematic approach. The opening track entitled "Breakout" is an emotionally stirring orchestral introduction that immediately reminded me of the opening to an epic movie. The swells of strings and horns grab your attention and leave you in anxious anticipation of what's to follow. At this point, I wasn't sure whether I was going to be hit with a Game of Thrones-type audial battle scene, or a power metal chorus. Thankfully steering from clichés, the second track entitled "Control" was neither.
Another defining trait of this EP is its adoption of the post-rock build-up formula. The whole piece seems to get more emotionally tense, louder and urgent as it goes along. This is true with "Control", beginning with a melancholic guitar and vocal that gradually grows in intensity. The orchestral backdrop provides a constant foreboding, a Gilmour-type guitar solo soon whips into a shredding frenzy and the whole composition gets a whole lot heavier and meatier just before the 3 minute mark. The song never loses its cool though, keeping the tempo at a middle point and bringing the listener through various musical transformations at an easily digestible rate.
At the beginning of the third track entitled "Condition", the music quiets for a short while into another orchestral moment before picking up steam and working towards the composition's climax. Strangely, the music morphs into a quick trance-like electronic pulse that reminded me of a mixture of Muse and a dance music remix. The guitar, keyboards and final repeating vocal line segue together into a pattern that gradually fades out. In true fade-out style, the impression is left that the music never ends and the climax is not yet reached.
Hopefully the band doesn't reach a climax and come to an end. From what I've heard on this EP, they have a bright future ahead of them. They have a great knowledge for composition, and understand the importance of having a well thought out piece of music without succumbing to the usual prog trappings of musicianship over songwriting. Bravo, guys!
Monks of Mellonwah are:
Vikram Kaushik – Vocals and Guitar
Joseph de la Hoyde – Lead Guitar
John de la Hoyde – Bass
Joshua Baissari – Drums
You can stream the entire EP here: http://monksofmellonwah.bandcamp.com/.