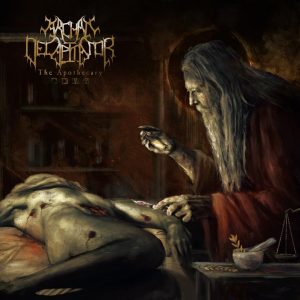 I remember Jessie, our esteemed editor and leader, telling me how much she enjoyed Archaic Decapitator's live performance when she first saw them a few years ago. It wasn't exactly her subgenre of choice, so the fact they managed to strike a chord is impressive. She asked if I could review the band's recent EP release, The Apothecary, and of course I couldn't resist to hear for myself the band that's sparked so much praise across the local metal scene — including from Jessie, who isn't exactly enthused with keyboards.
A brief intro entitled "Circadian Promise" is a cinematic dirge of keyboard, reminiscent of something Dark Tranquillity did so well on Projector. It gives a hint of something conceptual and troubling – a foray into storytelling that a full-length release could easily turn into something grand.
"Skyward" as opening track proper gives me a little Enthrone Darkness Triumphant-era Dimmu Borgir nostalgia. The keyboards are a tasteful backdrop of enchantment behind riffage that alternates between mid-paced slabs of theatrical punch and traditional black metal wilderness. It's part one of an energetic two-punch melodic death sequence that continues through "Cruelty of the Host Star." The latter is a classic Gothenburg homage to a time in the 90s when this kind of sound still had a sense of real danger and evil behind the melodicism. The building tension before the two-minute mark is an excellent instrumental warning shot for whatever "cruelty" the "host star" has up its fiery, nebulous sleeve.
A particular highlight of the EP is about four minutes into the modest epic, "Diminishing Returns." They way the band opens up into a moment of reflective space and height is a smart development of the song's wayfarer kind of rockiness. We've found the mountain's lookout point and take a few moments to scan a ravaged land of war for still-burning fires. About five minutes in, the music softens as the sun peaks out from behind the arrow-torn clouds and ignites the blood rivers of the murmuring, fatally wounded. We look down from the mountain, weary and hateful. Fantastic job, guys!
"The Apothecary" epic collects and summarizes every facet of the band's sound into a carefully woven musical narrative that I visualize as a reflective warrior sitting beside a roaring fireplace in his mildewed, rust-colored armory. I'm not sure if that scene is even remotely close to what the band has in mind, but I don't care. I see what I want to see, and the fact that I'm seeing it clearly is a testament to the band's talent.
I highly recommend any metal fan to give a listen to The Apothecary. Archaic Decapitator is one of the best bands in the CT metal scene, and that's not just because Jessie told me so.
The Apothecary will be released on April 19th.  Preorder here: https://archaicdecapitator.bandcamp.com/album/the-apothecary
Connect With Archaic Decapitator:
https://www.facebook.com/archaicdecapitator/
https://archaicdecapitator.bandcamp.com/
https://www.youtube.com/channel/UCMUlVWKt57R9L36yxicUp2g
instagram.com/archaicdecapitator/ 
For more from Alternative Control, find us on Facebook, Twitter, Instagram, Soundcloud, and bandcamp.