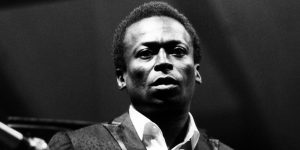 It's Black History Month and my choice is Miles Davis. So many things have been said about the man's brilliance and importance. He's regarded as one of the 20th century's top composers. And the reasons for it are chocked full with so much music theory bullshit. I don't know how to play jazz music, and truthfully a lot of it sounds like pointless white noise. There are too many notes and not enough emotional movement for it to mean anything to me. And almost every article I've read about Davis reestablishes that elitist jazz notion that he's a musician's musician. Well, those articles must be missing something. I'm not a musician and I adore the man.
And why is that? Because I've always felt he had connection to something unexplainably deep. Every seemingly pointless bit of jazz noodling has a secret purpose. His albums are like treasures uncovered from the dirt, with no real explanation of where they came from. Just cardboard square and fiber glass circle riddles. I've got no scientific explanation for this. It's all based on feeling. The music never has a message. It doesn't want to enlighten me or offer consultation like some new age self-help book. And frankly I'm not interested in a lecture on life when I listen to music.
His body of work is pure exploration – questions and ideas along a path of spiritual fulfillment that never arrives, and thank god for it. It's that dissatisfaction that's kept his music in constant flux and bloom throughout his career. He invaded genres, created genres, stomped on traditions and moved into uncharted musical terrain without a glance at what the critics would think. He's an artist that's hard to find in the 21st century, when every musician and songwriter in the spotlight just wants to be liked, wants so bad to be included in the three day indie shit festival this year.
I'm not at all optimistic with the way music is heading, to be honest. So many groups and songwriters think they're fucking prophets that are going to liberate people with their lyrics. They think by adding electric drums to their acoustic guitar ditties that it somehow makes them innovators. I sometimes miss the musical era before the internet. I miss the days when artists weren't so goddamn worried about what listeners think of them. I miss the fearlessness in music. In particular, I miss artists like David Bowie, Prince, Frank Zappa and especially Miles Davis dearly.
My recommendations consist of albums that are somewhat lesser known in his catalog. Everyone knows of the wine bar relaxations of Kind of Blue. Many have experienced the fiery and bubbling soup of Bitches Brew. Here's four more pieces of brilliance:
Miles Smiles
There's nothing too weird or groundbreaking about this release. I can't even pinpoint exactly why I hold it on a pedestal. I guess I favor the melodies on this disc, and the fact that despite its familiar ventures into jazz noodling, it retains a particular emotional center. It's a carefree mood; a walk through town on a humid evening; the giddiness of a cocktail buzz poolside. It's a perfect summer album.
In A Silent Way
This may be my favorite Miles album. I just love how relaxing, yet simultaneously psychedelic it is. Its position in Davis' catalog makes a lot of sense. It lays the groundwork for his masterful Bitches Brew album. You're not necessarily ready to trip your face off just yet, but you do want to settle into a parallel universe a little bit. This album is like preparing for an evening of hallucinogenic madness with a little weed and a touch of whiskey in a comfortable room. It's a dim and smoky room with a lot of chocolate colored furniture and walls of wood paneling. The lights are low enough and the ambience cozy and close enough to relax into slow and sleepy marijuana hallucinations. Maybe you finally drift off to sleep. It's a very particular and personal scene, but that's In A Silent Way to me.
On The Corner
A controversial release in its time, probably because people didn't get it. It was too rock and funk oriented for the jazz audience and too weird for the kids to get into. Now it's regarded as one of the most important releases in modern music. To me, it sounds like walking out your front door into morning in Midtown Manhattan. There's audial stimuli coming from all directions; the buzz of power tools, gossiping pedestrians, car horns and truck engines bouncing through your head in strange musical symmetry. Guitars, horns, Indian percussion and electronic disruptions frolic like colorful flies feasting off an intangible and contradictory beast of urban renewal and decay.
Miles in the Sky
https://youtu.be/_Mp2Pq3_PoU
This is the beginning of Miles' interest in the rise of psychedelic rock in the late 60s. It's not a strange and drugged out album by any means, but it does welcome in a bit of rock instrumentation and composition. I find the drumming in particular to be killer on this release. It has a Bonham sort of heaviness to it, jabbing here and there at each composition to push them forward. The horns and keyboards engage in many melodious and accessible flourishes. It sounds as if all the players play for the mood of the song, rather than playing a theme and then going off on their own tangents. Even though soloing is frequent, there's a good deal of discipline here, and an adventurous aggression that points skyward into astronomic haven.
What's your favorite Miles Davis record?  Let us know in the comments below.
And for more from Alternative Control, find us on Facebook, Twitter, and Instagram.
Featured photo by David Redfern.