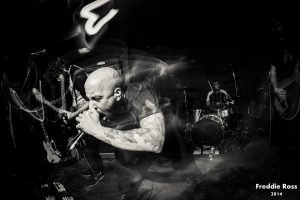 HAAN is a plugged-in four piece from New York City that plays hard hitting and sludgy noise rock, as evidenced by their debut EP, Sing Praises. The band, which features vocalist Chuck Berrett, guitarist Jordan Melkin, bassist Dave Maffei and drummer Chris Enriquez, lays down one hell of a racket which is definitely informed by the grit of their home city. It's quite an introduction.
And now they're heading our way.
They are playing a show at the Brooklyn Cafe in Waterbury on February 18 with Intercourse, Rug, Honch and a bunch of other Connecticut heavy hitters. So, with this show looming in the immediate future, we thought this was the perfect time to get the scoop on them, by sending Maffei a bunch of questions. Subjects covered include the joys of balancing real life and band life, their name change a few years ago, and their upcoming full length.
This promises to be quite the rager. Don't miss out.
All members of the band lead active lives outside the band. How do you find time for the band?
It can be difficult, for sure. As you get older and have to balance other responsibilities, time becomes more valuable. It's important to doing something fulfilling that you love to do with that time. If that means not sleeping enough, or making financial sacrifices or not socializing much, then so be it.
What keeps you interested in doing the band? What do you get out of it? 
We have always made it a goal to constantly push ourselves to try different things to get better at writing and playing, which makes the project both more challenging and fulfilling than anything we have done previously. The process of finalizing material takes a fair amount of time, but I think it gets us to something more satisfying.
What is the band's writing process? Does the music come first or is it the lyrics?

The music usually happens first. We'll make scratch recordings independently at home and share the files so everyone can listen and digest prior to getting into a room together. Once we have a structure we're happy with, we make a few demos to revise the arrangements and instrumentation and write lyrics to.
You recently laid down tracks for a full length. Can you tell us a little about it? How is similar to Sing Praises? How is it different? Do you know when it will be out? 
We recorded last July and are finalizing release plans for it now. We're hoping it will be out this Summer. The songs are both much heavier and weirder than Sing Praises.
We spent a lot of time on the songwriting to give each song – and the larger record – an arc to take the listener in different directions. The recording itself is a bit rawer – each song was done in one or two takes with minimal overdubbing or studio tricks. We just went in, got sounds and knocked everything out.
What is the NYC loud rock scene like these days? How does HAAN's noisy rock fit into it? If it does.
A few of the better independently-owned venues have closed in the last few years, which is a drag, but overall it's been a really good time for heavy music in New York. Honestly, we're not that concerned with where we fit in. We're friends with a bunch of cool bands that have some similar influences and traits, but I'm not sure we sound that similar to them. Our main objective is to create music that satisfies us. If people like it, that's great, but it doesn't factor into our decision making.
Also, what made you decide to change the band's name a few years back? 
The band has evolved quite a bit since we first began playing together 5 years ago as NO WAY. We had several lineup changes and once Chuck joined in 2013, the concept and sound of the project really came into focus. In many ways, it felt like a new project with a definitive purpose. The name still carries same general meaning – of unending, unresolved resentment and helplessness.
What are the future plans for the band? 
We're currently finishing up the artwork and production details for the recording we did last July, so that will hopefully be out this summer. We'll do a bunch of promotion on the second half of the year. Other than that, it's business as usual – we have a lot of demos in progress and a pile of new ideas we're sorting through. Hopefully we'll have a set of material to record towards the end of this year.
For more from HAAN, find them on Facebook and go to their Connecticut show on February 18th!
And for more from Alternative Control, find us on Facebook, Twitter, and Instagram.
Featured photo courtesy of HAAN, used with permission.