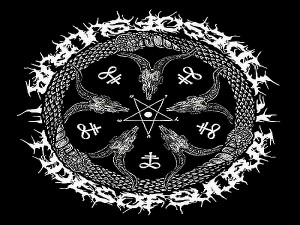 By Jeff McCarthy
I had a chance to catch up with bassist and vocalist Chris Bull from Welsh sludge band Tides of Sulfur about the progression of the band and their upcoming releases.  Here is what he had to say:
Spewed from the emptiness of a black hole in late 2011, Tides Of Sulfur began writing songs and compiling riffs. Having not found a drummer for a few months, we turned out attentions to the only drummer we knew, Jimbo. This line up would go on to record the Eternal Bleeding demo in April of 2012. The first gig wasn't until December of that same year. A rerecording of the guitars and vocals for Eternal Bleeding was necessary to give the tracks the weight that was needed. Jimbo would go on to perform another 8 times for TOS until he was outgrown in terms of musical capability.
Tom from another local band H O M O H found himself behind the kit in time for the FHED 'Winter Weekender' 2013 with Slabdragger, Monolithian and Hogslayer. Songwriting became and a more enjoyable experience with each member pushing the skills of the others with each new song. The Ypres EP was recorded in the summer of 2014 and self released the following October. Support slots for the likes of Dopethrone, Gurt, Bast, Grimpen Mire followed as did slots on the inaugural 'Doomfest' in High Wycombe which featured Diesel King, Torpor, Greenhorn and Morass of Molasses on its lineup.
It was at this stage where the band met with The Air Turned To Acid and having been blown away by their intense performance, approached them about recording a split release. This came to fruition in March of 2015 when we entered Pentastar Studios with Chi Lameo to record the 2 tracks which became our half of The Last Words of A Dying Planet released on CD (with the collaborative track 'Disinherited') through Hibernacula Records and on cassette through FHED. This was released in time for the first Red Sun festival with both bands performing on the Saturday night.
More support slots for the likes of My Silent Wake, Victorian Whore Dogs, Grey Widow and Sons of Tonatiuh followed as well as other appearances on all day line ups with Space Witch, Monolithian and Hogslayer and headlining the Fuel stage of Cardiff's HUB festival. We slowed down for the winter, with only a slot supporting Svalbard.  We are also releasing a compilation tape through Against All Odds Productions, which will feature songs only previously available for digital download and two songs recorded specifically for the release among others. We have continued to be creative and have now finished writing the 7 songs which will make up our first full length. We're booked into Skyhammer Studios to record with Chris Fielding (Conan, Hooded Menace, Electric Wizard, etc.), with mastering to be completed by Steve Austin of Today Is The Day.  So, 2016 looks set to be the biggest year for us yet.
Against All Odds Productions looks forward to releasing Tides of Sulfur's high-quality piss yellow cassette comp, Pot of Piss At The End of The Rainbow.  This is a hard ride with a blend of genres making for a sludge/metal/hardcore mix. Some tracks are streaming now; full digital pack comes with a pre-order or purchase. Tape ships out after Christmas.  We're looking forward to Tides of Sulfur coming to America for some tour dates — the future holds a lot for us all for sure.
Visit Against All Odds Productions Facebook and bandcamp for more doom and sludge from all over the world.  And for more from Alternative Control, like us on Facebook or follow on Twitter and Instagram at @AltCtrlCT!