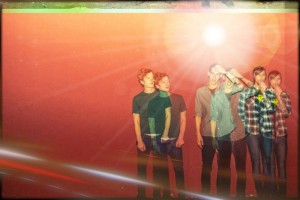 Hailing from Philadelphia, Bardus, which features guitarist/vocalist Justin Tuck, drummer Kyle Pierce and bassist Ari Rosenberg, play hard hitting noise rock that is informed by their environment. They live in a tough, loud city and their music is a reflection of that reality, which can be heard on their debut full length, Solus, self-released by the band on their bandcamp page in 2013. They also have an EP entitled, Pig, which came out in 2011.
Since they are coming back to Connecticut for a show on March 5 at Cafe Nine with two of our state's finest purveyors of loud, noisy rock in Grizzlor and Intercourse, along with New York City's equally excellent No Way, we thought it would be the perfect time to send Pierce some questions concerning a variety of subjects which include the influence of their city on their sound, their recent showing at one of those Converse/MetalSucks Rubber Tracks showcases in New York City and their upcoming plans for the future.
The March 5 show is the first date of three day mini-tour with Grizzlor and No Way, which also see all three bands play The Acheron in Brooklyn, New York, March 6 with NYC's infamous Couch Slut and March 7 at The Sex Dungeon in Lindenwold, New Jersey, with their Philly homeboys in Fight Amp.
You will not want to miss this show.
Your hometown of Philadelphia has a lot going on when it comes to loud, noisy rock. There are bands like Pissed Jeans, Fight Amp and Ladder Devils. In addition, Reptilian Records is doing a "Keystone Noise" series of 7″'s focusing on noise rock bands. Why do you think is happening? What do you think are the reasons behind this explosion of noise?
I think it's happening because it needs to happen. The "noise rock" scene has a lot of good bands that don't get a lot of coverage because it falls between the cracks of genres or doesn't sound like this or that. I'm not sure if it's so much of an explosion as it's people finally catching on to what has been going on for a while. It's about time some of these bands get the attention they much deserve.
In addition, little pockets of noise rock bands have formed around the country, like in the Pacific Northwest and the Midwest and also abroad. Do you think the East Coast has its own style of noise rock? How about the city you come from?
I think the east coast in general has its own style. To me, it's a more raw, nihilistic punk/hardcore sound. Philadelphia has its own vibe to it. No frills, straight to the point. It's derived from living in this dirty, loud city. There's probably something heavier in our drinking water.
You recently played one of those Converse/MetalSucks Rubber Tracks showcases in New York City. What was that like? Do you think it helped get your band's name out there? Why or why not?
The MetalSucks Rubber Tracks showcase was a real good time. The show went down at St. Vitus in Brooklyn and Municipal Waste headlined. It was sold out, wall to wall people having a blast all night. Being promoted on a website like Metalsucks definitely helped us reach a newer more vast audience. They posted a new song we did at Rubber Tracks and hopefully we caught a few more ears and more people checked us out. With being an unsigned band, it definitely helped get our name out there. It also helped that most people who have probably never heard of us got to see us play live. All we've wanted was for people to check out our music.
Also, according to your FB status updates, you are working on some new material. How is that coming along? How is it similar and/or different from the material on your most recent release, Solus?
We've spent practically the entire winter locked in our practice space working on finishing new songs. We've taken the approach and mentality to explore all new ideas and spend some time working on them. The new songs aren't too different, but they don't necessarily sound like Solus. Solus was pretty much the first chapter of the band. We've learned, dissected things we liked and didn't like, got stoned, and forgot everything.
Once this three day stint with No Way and Grizzlor is finished, what are the future plans for the band? Can we expect more touring? A new record?
After these shows with Grizzlor and No Way are over we are playing a show with Lo-Pan in Philly the following week.  We'll be finishing up our writing and then doing demos in April. We will be playing shows throughout the summer with some touring before we focus on recording our new record. We're hoping our new stuff will be released on more than a digital format this time around, but as always, we're just focused on doing us and playing.