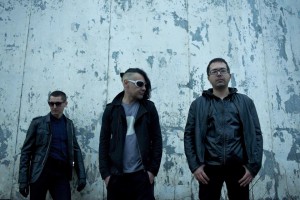 Not at all a zero, this album is poorly named. Ape Men is described on their Facebook page as, "Edgy indietronica formed on the post Iron Curtain fringe of the European Union." Sounds fancy!
It is pretty fancy, actually. I haven't listened to electronica since I was smoking pot in Joe and Krista's dorm room in college. (Joe and Krista, are you out there?) Ape Men brought me right back to those glory days of higher education. The music is well produced, slick yet textured, a familiar sound that could easily be the background music of anyone's life. Listening to it through my earbuds the synthesized accents of the songs travel from ear to ear across my skull. I like it. And frankly, I wasn't expecting to.
The weak spot for me is the vocals. Not off key in the least, but tonally not settling in a pleasing place. It must be me. However, when watching the video for "Cash" the vocals didn't bother me a bit. Perhaps they fit better when provided with a visual. You know, like when you've only spoken to someone on the phone and then you finally meet them and they don't look anything like what you expected? Well, maybe it's not like that at all.
Definitely take a listen to this, even if you don't like the genre. It's good driving in the car music, party music and smoking pot in a dorm room music.
Joe and Krista, if you're out there you should take a listen, too.
This post was sponsored by Independent Music Promotions. All opinions are our own.