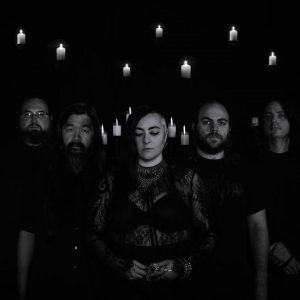 After being intrigued by avant metal group Eye of Nix's sophomore album Black Somnia, I had to find out more about the band.  Frontwoman Joy Von Spain talks with Alternative Control below about the Seattle outfit's recent signing with Prophecy Productions, the inspiration they draw from Greek mythology, and more. 
I'm also happy to announce that an Eye of Nix song will be featured on the blog's upcoming compilation album, Volume Doom.  Keep an eye out for that comp in early 2019 and read on to delve deeper into this compelling band…
You guys recently reissued your album Black Somnia with Prophecy Productions.  Can you tell me a little about how you started working with Prophecy and why you decided to do the reissue at this time?
We're beyond thrilled to be working with Prophecy. It was really a joyous occasion to hear from Martin since he has chosen to work with so many artists I admire. Sound quality and visual artwork is very important to us and it is to him as well. Regarding the re-issue: Black Somnia was initially issued in a very short run LP via Scry Recordings, with the intention of being available primarily at live shows. So, there was plenty of opportunity to reach new listeners in the EU and US as well by re-pressing the vinyl and adding the CD format too.
Your press release mentioned a full-length coming out in 2019.  Are there any details you can share about that?
All I can say is that we are very excited about the new direction for the album. It feels as though the sound is pulling together in unified way without giving up the dynamics we so love. Working with our new rhythm section, plus the addition of second guitar and keyboard has brought in more layers to the live show and I can't wait to hear what it brings to the studio experience.
How do you go about composing songs with such an unconventional structure?
It's somewhat mysterious how our songs come together. Seems to be different for each one. In the past, we had three people in the band contributing to writing. Moving forward, all five of us are writing so it seems the possibilities are endless.
One of your members, Masaaki Masao, is described in your bio as a noise/sound collage artist.  What does that role entail?
Masaaki creates sound collages, samples of my voice, and walls of noise to mix into the band's textures, depending on what the piece seems to call for. He also plays keyboard, and in the past percussion or guitar on certain tracks.
The cover art for Black Somnia is pretty scary!  Tell me the story behind that…
I worked intensively with occult artist and photographer Anima Nocturna (Carlos Melgoza) and an international group of Butoh dance performers to create the album's ritual-based visual elements. Once the band had settled on our imagery from Ovid, this amazing group of visual artists ran with the beauty and terror illustrated in his ancient poems: "Nox (Nix/Nyx) approaches: a garland of poppies binds her peaceful brow, black Somnia (Oneiroi) trail her…" – "long-drawn wailing cries…came from the ground, the bushes blanched, the spattered sward was soaked with gouts of blood, stones brayed and bellowed, dogs began to bark, black snakes swarmed on the soil and ghostly shapes of silent spirits floated through the air."
What other bands or artists does Eye of Nix find inspiring?
Specifically, seeing Ludicra live inspired me to form the band! Other artists we've collectively cited: Bethlehem, Aluk Todolo, Blue Sabbath Black Cheer, The Ruins of Beverast, My Dying Bride, Bell Witch, Arckanum, Swans, Zeni Geva…
What was the best part about your recent tour of the eastern US?
Hard to say! Playing New York for the first time, sharing the stage with Alcest, meeting Martin, Andreas and Matt from the Prophecy team (and so many of our new label-mates) at Prophecy Fest was truly great. But we also had some smaller venue shows in Providence and Buffalo with equal enthusiasm from the audience and our fellow bands. Playing Portland, ME on Halloween was a lot of fun!
All-time bad interview question, but I really want to know: what is the meaning behind your band name?
Nix is an alternate spelling of Nyx or Nox, the Greco-Roman daughter of chaos and goddess of the night sky and primordial darkness. According to myth, she spontaneously birthed sleep, death, fate, the battlefield's Keres, and many other offspring. I felt drawn to this as a metaphor for writing music and how many songs start from a void or chaos – but transform into being, with their own qualities and themes. What would the night sky see — all things terrifying and beautiful?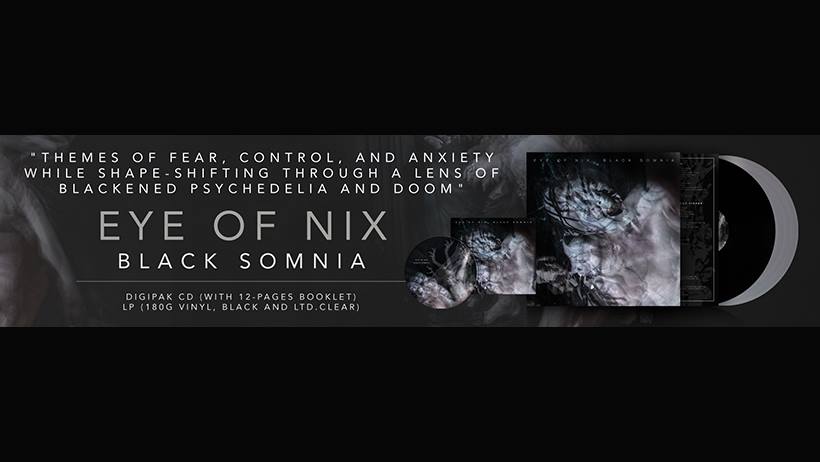 Find more from Eye of Nix at the following locations:
And for more from Alternative Control, find us on Facebook, Twitter, Instagram, Soundcloud, and bandcamp.