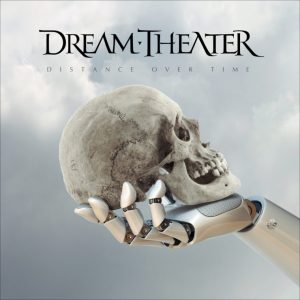 I remember that night back in 1994 clearly. "Take The Time" was playing on my father's stereo at home. It was during the song's lengthy instrumental workout that I made this innocent observation: "Boy, these guys write long songs."
My father's response?
"Well, they love to play."
It was an endearing thing to hear as a kid, and Dream Theater became one of my favorite bands.  But sadly, that phrase would plague the band's music for the better part of a dozen years. Their output from Six Degrees of Inner Turbulence to their self-titled released in 2013 was all flare and little substance, and what substance they strove for missed the mark. Even when the band decided to scale back the technicality, they smashed their heads full speed into bloated theatrics on The Astonishing. Loving to play well is not in itself a drawback to any progressive rock band, and to say so is missing the point of the genre. But there is a balance to consider. Many moments in old school albums like Images and Words and Awake carried compositional sense and emotional weight underneath the flare. I'm pleased to say that on Distance Over Time, I think they may have found that balance again.
Showoff musical detours are still here, but the length and scope has been pulled back dramatically. Instead of eye-rolling departures that needlessly extend the album's playing time, instrumental breaks offer alternative ideas on the song's theme. "At Wits End" as one of the longer tracks on the album is a respectable nine minutes instead of twenty because it keeps steady its intentions throughout its various musical angles.
The key takeaway here is the band's newfound value in restraint. Dream Theater is learning that the Dream Theater sound needs an editor and a filter. They allow the groovy hook of a song like "Paralyzed" to remain the focus, and so create an awesomely simple song with simple intention. Distance Over Time is full of ease and groove, with heavy emphasis on feel. They're not just finding excuses to solo anymore.
I'm pleased and surprised at how affectionate these songs are. It's been a long time since I've listened to Dream Theater and felt anything more than mild amusement over their incredible musicianship. "Barstool Warrior" balladry is 1980s classy, fulfilling like tasteful musical theater. "Fall Into The Light" has a midsection following an acoustic break that harbors a true sense of moodiness and melancholy that I haven't heard since the Awake days. Their attempts to emote don't feel awkward, forced, or cheesy this time around. Perhaps James LaBrie taking over lyrical duty has something to do with it.
I'm still not a fan of LaBrie's singing. Something traumatic happened to the man's voice sometime after the Change Of Seasons EP and he's never been the same. At times he sounds like a prepubescent child, other times he's like Steven Wilson trying to front a metal band. I love Mr. Wilson, but that's not a compliment. Thankfully much of the songwriting here is tempered, and so his singing is held to a healthy midrange that helps to dilute his insufferable light-heartedness.
For those of us who pretty much gave up on Dream Theater a long time ago, Distance Over Time might be a reason to pay attention again. The band hasn't pulled off a masterpiece here, but they're realizing and fixing their mistakes. They're learning that it's still okay to let loose and love playing, but it's more important to compose outside of music theory algorithm. Give it a try, Awake fans. You might feel like it's 1994 again.