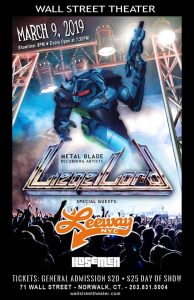 Anthony Truglio, guitarist and founding member of Stamford metal warriors Liege Lord, sat down with Alternative Control in February to tell us what's going on with his seemingly immortal band.  The former Metal Blade outfit, which was founded in 1982 and regrouped in the 2000s, is playing at Norwalk's Wall Street Theater on March 9th before flying out to Greece to headline not one but two metal festivals.  Trug and his longtime friend Anthony "Quinn" Carpanzano talked about Liege Lord's tour plans, their upcoming album, and more.  Read on for snippets and listen to the full interview at the end of this article!
On working with labels vs. DIY:
Got a new album coming out at some point.  […]  We have (label) offers but we might just do it ourselves.  We've demoed the stuff…  Unfortunately you don't get enough money to make an album — you gotta borrow stuff, and we really want to make a good-sounding album.  Five or six thousand dollars doesn't do it.  We'll see, we might just go to the bank and go in debt and do it ourselves.  (laughs)
"Well yeah, who do you wanna pay, the record label or the bank?"
(laughs) Depends on the interest rate.
Quinn: "Your soul."
There's no interest rate on the soul (laughs), Robert Johnson did okay with it.
On shifting between headlining metal festivals and being a regular family man:
The greatest memory I have of that is when we got back together in 2012, and so my son was two years old…. I remember sitting signing autographs for forty-five minutes, playing in front of the Keep It True festival, which was phenomenal… And the next week — landing, coming home, walking in the door, and wiping my son's ass.  Back to reality!  (laughs)  Here's reality, this is my life.
"Does your son like Liege Lord?"
I think he's more into Fortnite.
Listen to the entire interview below (NSFW), and get your tickets for the March 9th show here.

International fans, see Liege Lord at Up the Hammers Festival in Athens, Greece on March 16, 2019 and Horns Up Festival in Trikala, Greece on March 23rd, 2019.
For more from Alternative Control, find us on Facebook, Twitter, Instagram, Soundcloud, and bandcamp.