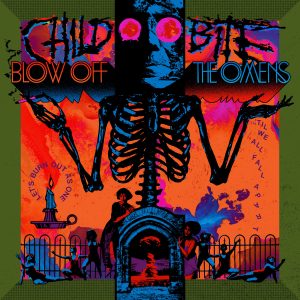 Once again, Detroit noise rockers Child Bite have reinvented themselves, streamlining their spastic sound a bit and taking a more straightforward approach (well, as straightforward as they can be) for their fifth full length, Blow Off The Omens.  It's their second album second with Phil Anselmo's Housecore Records and the results are quite spectacular. This time the band recorded with acclaimed "engineer, don't call him a producer," Steve Albini, at his famed Electrical Audio studio in Chicago, and the outcome is pummeling, powerful and feedback-laden.
In fact, the band stated early on that this record was going to take this sort of back to basics approach. They were going to emphasize the more straightforward, groove orientated aspects of their sound. They wanted to make an album of nine straight up bangers, that were a little more unified in sound, with no "prog epics" or "hardcore blasts" that dominated their last album Negative Noise.
Well, this approach suits them quite well, as Blow Off The Omens is nine tracks, of all killer no filler, memorable noise rock. They get in, rock the hell out of each song, and get out just as quickly. Albini's "recording" adds a punchiness to the sound, and it helps that they are writing some of the best songs of their career. This is some twisted, exciting, groove laden, noise punk, filled with biting commentary on the state of the world circa now. Bruce Lamont's (Yakuza) sax shows up on a few tracks, while Dan "Chewy" Mongrain of Voivod lends a ripping guitar solo to the title track that closes out the album.
Blow Off The Omens is easily one of the best noise rock, and loud rock, albums of the year. Child Bite have delivered another stellar album that takes their sound into a different direction, while retaining all of their personality and power. I know it came out a bit late in the year, but don't sleep on this one — because if you do, you're missing out. Get ripped and get weird.
4/5 Stars
For more from Alternative Control, find us on Facebook, Twitter, Instagram, Soundcloud, and bandcamp.