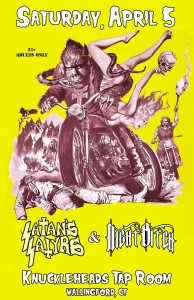 You lucky bastards, today we bring you a fresh, new interview with Nightbitch guitarist Ryan Adams. In this installment, we discuss their new EP, their newish drummer, why you might be seeing less of them in state and how they make children's dreams come true. (You might be surprised at this response. Or not.)
Of course, this is all in preparation for an awesome show the band is playing with garage-doom miscreants, and Roadburn alumni, Satan's Satyrs at Knucklehead's Tap Room in Wallingford on April 5. Did we mention it is free? Seriously, you have no reason to miss this show. You wouldn't want to be accused of being false, now would you?
Tom Pizzola: You were recently in the studio recording a follow up to the "Chainmaker" EP. Are there are any details you can reveal about this new recording? Will it be another EP or is it an LP? Is it too early to reveal who is putting this one out? And when? What formats?
Ryan Adams: We recorded at Sonic Environments with our friend Jeff Weed again and it was the most efficient studio session I've ever been a part of. In and out in under 24 hours, recorded live with minimal overdubs. I can tell you that it will be a 10″ vinyl-only EP featuring three originals and a Blue Oyster Cult cover. We'll be making a proper announcement with the artwork, title, label info and release date once it's at press. A poke in the eye of every FALSE on Lucifer's big green motherfucker.
Musically how has band evolved or devolved on the new recording? Can we expect a few new twists to your sound? How does the Hammond fit into all of this? What about the subject matter? Are you keeping it nice 'n sleazy?
This will be our first release with the Hammond fully incorporated. I guess you could say it's a new way for us to explore OLD sounds. For me as the only guitar player, it's pretty cool for me to have an occasional rhythmic foil, like on the beginning riff of "Caged Heat." I think it really fills things out, spatially. But we don't use it everywhere. "Persian Virgin" is an example – only song on the 10″ without the Hammond on it. Not every song calls for it. That one is more of what we like to call a "hard charger." Sure, it's supple; yeah, it shakes… but does it need the organ? Nahhh. I mean, you don't wanna dip everything in Siracha, do ya? Well yeah, maybe you do. I do.
As for the subject matter, the songs mentioned above are ruminations on the buyer's market and heavily indebted to the women-in-prison subgenre of 70's exploitation subgenre. I'd hope that whets your appetite for filth, Thomas, you godless savage.
T: How has newish drummer Dave Parmelee affected your sound? What does he bring to the table? In a live setting, does this free Crog to roam the stage and be the arrogant front person he was meant to be?
RA: Dave usually brings some really fuckin' nice beers to the table- like six to ten of em, which is especially handy when you're so goddamn tardy that you miss the packy on the way to practice. He's tight as heck and since he's joined, the quality of our live performance has doubled tenfold which means we're a thousand times better with him, obviously. He can also do some wild shit that Crog would never even attempt while singing – like the double-bass in "Persian Virgin." (I know, "double bass" – not to worry. We aren't trying to be Obituary; I'm trying to rip off Vandenberg.) Depending on the set list we choose, Crog will be free so long as he isn't stuck behind the Hammond; which gives us further consideration as to not over-employ it. I absolutely cannot fucking wait to start writing songs with Dave proper now that this last batch of songs conceived prior to his arrival is unleashed. I couldn't be happier with what we are soon to unleash but the prospect of what is to come has my tadger at high noon!
T: How long were you waiting to unleash the spectacle you unleashed on Toad's a few months back at Opus' Blizzard Bash? How did this finally come about? I've known you have had ideas like this in the past. How do you think it went down? Can we expect more of this in the future?
RA: Since about ten or eleven, Tom. NightBitch makes children's dreams come true.
T: The band is going on a mini-tour in early April. How did this come about? What do you hope to gain from this? And how did you get Satan's Satyrs to play Knucklehead's in Wallingford with you? That's quite a coup. They are in high demand. Will mini-tours be the way the band tours now in the future? Any plans to hit any other parts of the country?
RA: We're especially interested in GETTING THE FUCK OUT of Connecticut. We're very proud of and grateful for the fans we have here but I have no interest in sticking around CT playing the same venues with the same few bands that I enjoy playing with. We'll continue to bless our beloved by bringing killer bands to join us for increasingly rare local appearances – some of these may even be enhanced by the hypnotic gyrations of haunchy temptresses! – but there are way too many nowadays buttdarts around here. Fuck off and listen to Robin Trower; I'm gonna go play for animals in parts unknown! We've played two out of state shows with Satan's Satyrs before. Clay hit me up to see if we could get them a gig in CT because he knows our bands combine to form a sleazy fuckin' VOLTRON that shreds every last moral compunction of those in the room while they boogie their asses off until it becomes 1972 again, only good luck finding a quaalude. However, you can get to Knuckleheads before the kitchen closes at 10; I have it on good authority that the synergistic effects of their food and some "occult" tobacco may approximate the effect of the most desirable barbiturate.
But let us not gloss over the fact that THIS IS A GODDAMN FREE SHOW, Tom! More cockflex that coup, my friend. And it's gonna be so very.
T: Once the new record drops, what are the plans for the band?
RA: To play as frequently in places that are not Connecticut with bands that we enjoy and never put out a full length album.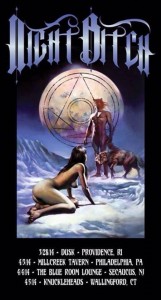 T: And one final question. Do you have any crazy t-shirts designs planned for the near future? Maybe for this mini-tour and moving forward?
There will always be objectionable merchandise available at a NightBitch show. Never stop the madness. Persecute banality with extreme prejudice.
Find Nightbitch on the interwebs to keep up with their fuck-off-nowadays heavy metal.
Upcoming Shows
3/28 at Dusk in Providence, RI
4/3 at Millcreek Tavern in Philadelphia, PA
4/4 at the Blue Room Lounge in Secaucus, NJ
4/5 at Knuckleheads in Wallingford, CT