Mike Mason, Casey Hansen and Anthony Lucero were in a band together under a different name, but something bad went down with one of the members — so they kicked him out, renamed the band Cult Leader, and started anew. They added bassist Sam Richards and Lucero, the previous bassist, took on vocal duties.
They did the right thing not just from an ethical standpoint, but as a band; now they are tighter, more focused, and ready to take their chaotic hardcore-tinged sound to new levels. While there are some similarities to their previous band, which is easy to hear since three-quarters of them are in this band, you will be pleasantly be surprised by their recently released Nothing For Us Here EP on Deathwish Inc.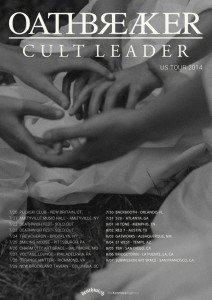 Cult Leader starts a tour with Belgium-based label mates Oathbreaker on July 20 at the Pulaski Club in New Britain, joined by Rhode Island wreckers Fucking Invincible, Connecticut crust punk standouts Iron Hand, and Western Massachusetts noise-core masters Mean Man's Dream.  The Oathbreaker/Cult Leader tour dates are centered around playing the Deathwish Inc. Festival in Cambridge, MA July 22 and 23.
So this was the perfect time to send Lucero some questions via e-mail concerning the genesis of the band, signing to Deathwish, his move to vocals, and their future plans among other subjects. Below are his answers.
Seriously, this is one stacked show. You don't want miss this.
How would you say Cult Leader is different from your previous band? How is it similar?

Even though it's the same core of guys continuing to write heavy music together I think the shuffling of members and the introduction of a new musician, Sam Richards, along with the new opportunity to delve into our influences that didn't feel like they fit in the past has completely changed our approach to song writing and therefore changed the feel and sound of what we're doing. We feel our music become more intense in all aspects.
What made you decide to continue on as a band under a different name?

We felt that our last band had reached a point where we couldn't continue on with it any longer. But as musicians we weren't finished playing music together so we decided to build something completely new from scratch. It was challenging but as Cult Leader we're stronger and tighter as a group than we've ever been.
How did you realize that you would be the right person to take over on vocals? What do you bring to the table?

I was the first person to suggest the move to vocals. We were talking about many different options but I really wanted to do it and after our first show together it was apparent that it was going to be a good fit. I simply want an emotional response from the listener. My lyrics come from an intensely personal place and I make it a point to not have a "message" or preach bullshit at people.
How do you arrive at your sound? Is it meticulously planned out? Or do you just let it fly? Or a combination? Is it planned chaos?
Everybody contributes, sometimes the songs come together easily sometimes we work on one song for months. We know how we want songs to feel like and we're not afraid to work on them until they feel right to all of us.

How did the band hook up with Deathwish Inc.? Were you surprised that they were interested in your new band? Why or why not?

We recorded Nothing For Us Here on our own with a friend from Salt Lake named Wes Johnson. We were ready to go DIY with it but we've been friends with Jacob for years and we wanted him to hear it so we sent it to him and to our welcome surprise he told us Deathwish Inc's doors were open to us so we jumped on it and have been headed forward together as hard as possible since.
What are your plans moving forward? Can we expect a full length sometime in the near future? More touring?
We're in the process of writing a full length right now and we'll also be doing as much touring as possible in the coming months.