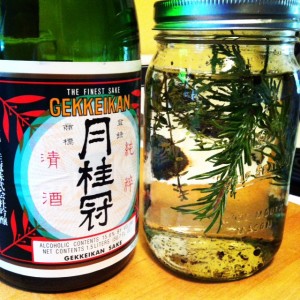 …It's all part of the hipster quest.
After a lunch at Miya's Sushi in New Haven, I got the bright idea that infusing sake with herbs from my garden would make a delicious drink.  My plan wasn't entirely successful, but Edison didn't invent the light bulb on his first try either.  Here's what I did, so you can learn from my mistakes and come up with your own sake science experiment.
Supplies
Mason jar
Coffee filter
Colander
Some other container
Ingredients
Half a mag of plain sake
2 sprigs rosemary
1 sprig thyme
6 or 7 peppercorns
1 "twist" freshly ground pepper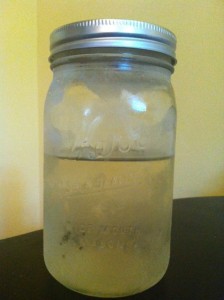 Directions
Wash and dry a mason jar.  Fill most of the way up with sake.
Wash herbs and pat dry.
Add herbs, peppercorns, and pepper to sake.
Let the jar sit in a cool, dark area for two days.
Strain the infused sake into another container using a coffee filter in a colander.  Pour the strained sake back into the mason jar, or a sterilized jar if you don't plan on drinking it within a day or two.
Serve chilled.
Where I think I went wrong was letting the herbs infuse for two days – one day probably would have done it, but by the second day my concoction really tasted like a pine tree.  (This didn't stop me from drinking all of it, but I had to get it REALLY chilled first.)  It paired well enough with some smoked trout that Mike and I happened to have on hand, maybe because both flavors were "outdoorsy."  But for my next attempt at infusion, I'm going to try fruit or hot peppers instead – stay tuned!