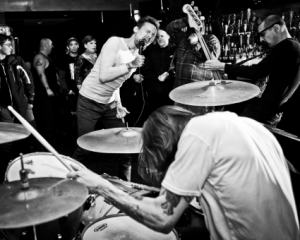 This band, with one of the most offensively awesome names, burst forth from Rhode Island a few years back.  They had one simple mission: to destroy everything in sight with their fast, noisy, and messed-up hardcore.  Even though members of the band have done time in other known bands such as Daughters, Dropdead and Soul Control, no one was prepared for the hell they were going to unleash.
So far, Fucking Invincible has released two 7-inches, "Very Negative" and "Downtown Is Dead" as well as a cassette demo, which boiled this music to its very essence. Combined, all three releases don't add up to more than 20 minutes of music — but in this case it's the quality, not the quantity.
Now comes their debut album, set to be released on July 15.  It'll Get Worse Before It Gets Better clocks in at 14 songs in about 15 minutes (more than doubling the time of both 7-inch records combined).  This makes sense because lead screamer Lex Marshall's other band Daughters' debut Canada Songs was only 12 minutes long. In some ways, this harkens back to the sound of that first record, where it's just fast, crazy, and out of control.
However, FI shows signs of incorporating some dynamics into their faster and louder sound. Many songs now have mini-breakdown parts, which are more like a sludged-up Jesus Lizard than Hatebreed, along with some mid-paced parts that give the music a little extra color. Don't worry, the songs are still pretty fierce, the band has just shown a way to vary the attack a little bit.  It's growth, but nothing that dilutes their sound and original plan to make vicious hardcore and not over-think it.
Opener "Not What You Are" showcases this new approach. It starts off brusque and raging and then gives way to a little breakdown right before it ends. "Dead Dogs" does the same thing, sludging it up a bit, while Marshall screams his head off. "The Brotherhood Of Unfullilled Early Potential" takes it even farther, with a nasty noise core breakdown among the musical carnage.
It must be said that Marshall is in fine unhinged form. His screams and yelps have the air of someone having a nervous breakdown, giving this an extra dose of unpredictability and danger.
So yes, this release lives up to the promise of their first three releases and pushes the band into slightly new directions, without weakening their mission to sonically kick your teeth in. Anybody who loves the noisy, twisted side of hardcore will find much to love on here, along with people who just want something fast and pissed. It satisfies your primal urges.
See Fucking Invincible July 20th at the Pulaski Club in New Britain, alongside Oathbreaker, Cult Leader and more — details and ticket info here.
It'll Get Worse Before It Gets Better will be available July 15th from Atomic Action! Records.
Review copy and photo courtesy of Earsplit PR.