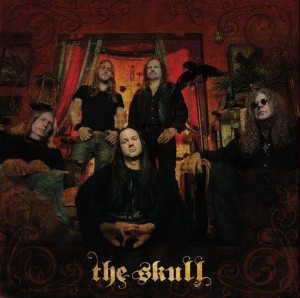 The Skull features Eric Wagner (vocals) and Jeff "Oly" Olson (drums), who were both founding members of doom metal legends Trouble. In addition, they added longtime Trouble bassist Ron Holzner, along with Lothar Keller and ex-Pentagram guitarist Matt Goldsborough to their new group, which was originally formed to pay homage to their old group. After all, their name is a reference to their former group's classic second album.
Some people might say you can't really have Trouble without guitarists Bruce Franklin and Rick Wartell, but in Goldsborough and Keller they have found another killer tandem, which comes up with a whole bunch of memorable riffs and solos. In addition, the rhythmic partnership of Olson and Holzner has an almost psychic connection bringing some nimble grooves to the party. To top it all off, you have the distinctive vocals of Wagner, who has a wonderful way of expressing sorrow and triumph through his pipes.
They sound like a band reborn. Not only does this debut record bristle with a certain energy; it is also filled with a bunch of killer songs that honor their old band's legacy, while pointing a way to the future. If anything, The Skull takes the best parts of Trouble's early "true doom" days on Metal Blade and merges it with the psychedelic experimentation of their days on Def American. It's quite the hybrid.
"Trapped Inside My Mind" opens with a monstrous riff, lock-step rhythms, and the distinctive vocals of Wagner, before adding a melodic chorus and some mellow psychedelic parts to the mix. "The Touch Of Reality" establishes a melancholy and features some tasty solos, while "The Door" opens with keyboards, giving it eerie tinge, while also featuring more tasty solos. "Send Judas Down" gets it boogie on, and the title track is an epic slice of doom, layering in acoustic guitars and well developed psyche rock parts to the mix.
It also must be noted that the album contains many ripping solos by Goldsborough and Keller, which give the songs some extra pop and introduces a classic heavy metal element into the band's doomy sound. So, let's give it up for old dogs showing the pups how it is done. For Those Which Are Asleep is one classic slice of doom that touches on psychedelic rock and traditional heavy metal. Turn on and bum out.