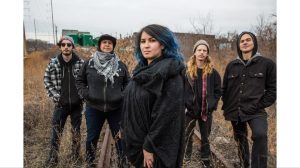 Of all the recent bands with "Witch" in their name, Witching is my favorite.  This badass Philly doom outfit has only released an EP and a single so far, but already they are turning heads.  On the eve of a brief tour, frontwoman Jacqui Powell talked with Alternative Control about where the band came from and where they're headed:
Tell me a little about the history of Witching.
The idea of Witching started with Nate Zigramanis and I — we wanted to start a project together after sharing the same musical interests at a job we were at. This was a little over a year ago.
We already knew our drummer Miles Ziskind, he was pretty busy with other projects at first so he introduced us to his younger brother Lev to play second guitar. Miles joined us shortly after. I work at Grindcore House in South Philly where bassist Tatiana Buonassisi frequented, we both knew each other from the music scene here and I knew she wanted to play music again. Everything just came together organically to keep a long story short.
I'm terrible at understanding lyrics — what are your songs about?
They are the healing process I give to myself — each song has given me self-realization of something from the past or helps me find the closure that I wasn't able to find before. Most of the time we will be working out our songs and I realize what I am trying to say is something I feel deeply but couldn't process beforehand. Some of the lyrics show exactly how I felt while we were writing the songs — take it how you want. The collaborative process of creating a song brings an outlet to each person in the band; it means something different to everyone including the listeners.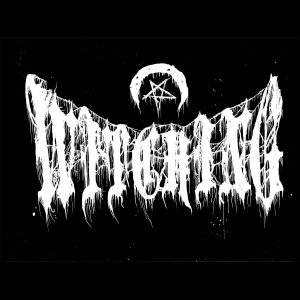 What kind of response did you get to your self-titled EP?
We threw a demo up on our Bandcamp and without our knowledge, a few different publications gave us positive write-ups. The EP was released digitally at first, and then we released it through Philly's Suicide Bong Tapes. We had a release show in June and the tapes sold out at the door so that was pretty cool.
What's the music scene like in Philly?
The music scene here is made up of some pretty tight-knit musicians and artists. The visual arts play a huge role here as well, most of us are creating images for bands, our personal work or art galleries. It's really cool being part of something with all of your friends that involve two creative outlets. Some of our friends here are Atomic Cretins, Die Choking, Mob Terror, Heavy Temple, Night Raids, God Root, and Yuckmouf.
What are you most proud of in your time as a band?
We all communicate together and work things out as a family. Not only are we making music together but we are constantly helping each other improve as humans.
What is Witching planning after the tour?
After tour we have plans to release our remastered EP on a 12″ record. This winter we plan on bunkering down and recording our full-length album with Will Spectre at Red Water Recording.
We're looking forward to hearing it!  Check out Witching's new single "False Martyr" below, and have a peek at their tour dates too.  Perhaps they're on their way to bewitch a city near you…
Tour Dates
9/28-PHILADELPHIA, PA @ CENTURY BAR
9/29-DAYTON, OH @ THE VAPE DOME
9/30-CHICAGO, IL @ BURLINGTON BAR
10/1-DETROIT, MI @ TRUMBULLPLEX
10/2-BUFFALO, NY @ TBA
10/3-BROOKLYN, NYC @ ST. VITUS BAR
10/4-BALTIMORE, MD- @ THE RAVEN INN
Connect with Witching
For more from Alternative Control, find us on Facebook, Twitter, Instagram, Soundcloud, and bandcamp.