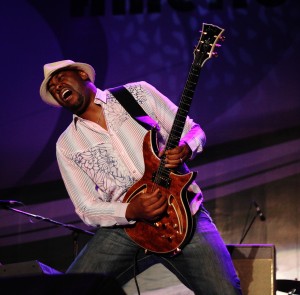 When you hear "Church is Burning Down," you want to dance — but should you?  The juxtaposition of body-shaking music and severe lyrics is an unexpected one.  But Brooklyn blues artist Tomás Doncker is dead serious.  "It all started on The day of the Charleston Massacre," he said.  "Given the fact that the recent "Road to Charleston" was emotionally taxing enough for me (a.k.a: Trayvon Martin, Michael Brown, Ferguson, Eric Garner, Baltimore — not to mention some of the less publicized events around the country and the world), the heinous events which occurred on June 17, 2015 pushed me over the edge.  I was overwhelmed with rage, hatred, confusion and disillusionment.  I had no place to put these feelings.  I had no idea how to process them.  So, in a selfish attempt to maintain my own sanity I did the only thing I could do — write about it."
"Church is Burning Down" is the single off Doncker's September 2015 album The Mess We Made, which includes seven more socially conscious songs.  While the album is described as "(his) greatest artistic statement to date," this ain't Doncker's first rodeo.  As a band leader and producer, he has worked with a diverse roster of internationally known artists, from Bonnie Rait and Yoko Ono to poet laureate Yusef Komunyakaa.  He has termed his recent songwriting endeavors "global soul," combining blues and jazz with elements of African and Caribbean music.
Local fans of Snooty Garland and Mr. Council should investigate Tomás Doncker's music further — and don't let the levity of the music fool you.  Doncker has a lot of pointed insight hidden in that global soul groove!
And for more from Alternative Control, like us on Facebook or follow on Twitter and Instagram at @AltCtrlCT!
This post was sponsored by Independent Music Promotions.  All opinions are our own.