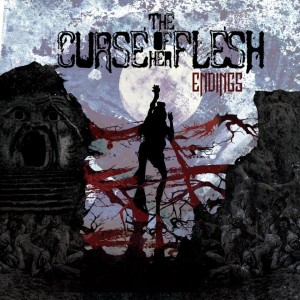 The Curse of Her Flesh is back.  After something of a hiatus, the central Connecticut metal band has returned to the scene with the release of Endings, a full-length album that features tracks from their 2010 EP as well as new material recorded earlier this year.  Endings is all about feel: the band members' varied influences – everything from Carcass to Pink Floyd – blend to create a rhythmically driven work they can be proud of.
The first track is also the title track, and it's a strong opener.  Bill Russell's guitar riffs alternate between fast, powerful onslaughts and mid-tempo grooves, all complemented very well by drummer TJ Monaco.  Like the songs that follow it, the words to "Endings" are sinister.  "I write from the gut about the dark side of humanity," vocalist Eric Morton told me.  "A lot of the struggle between good and bad happens inside a man. […] Real monsters exist."
Indeed.
Even so, I was skeptical of the flesh-eating lyrics on the fourth track, "Leg of Cadaver" – but when Morton explained the song's back-story, I understood the reason behind the zombie-movie campiness. "'Cadaver' had a direct purpose," he said, "My friend ripped one of his knee tendons moshing at our show and I told him I'd write him a song."  The friend had to have surgery as a result of the injury, in which his torn tendon was replaced with a nice new one… From a cadaver.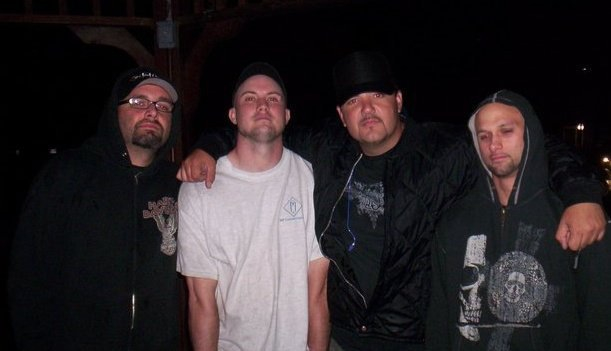 One of my favorite songs was the fifth track, "Judgment" because Russell gets to show off his guitar versatility.  The song stays in the vein of the rest of the album until Russell breaks out with a solo reminiscent of classic rock n roll — think Janis Joplin's various backing bands, or Hendrix.  And bassist Greg DiErrico gets his moment to shine on "False Idol," the seventh track, playing countermelodies that fill the open space in the song's slower riffs.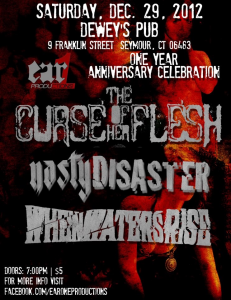 In terms of the recording quality, I was impressed with the clarity of Morton's vocals – I could understand every single word he was saying, but his voice didn't overpower the mix.  The guitar had a full, chunky sound and the drums were also very clear.  Morton couldn't say enough good things about Dexter's Lab in Milford, where they recorded the album.  "We've recorded there twice.  Nick Bellmore, the sound engineer, is quick, reasonable… He's really on top of his game."  He was also happy that Curse has the support of local record label Ear One Productions, saying "It's really nice to have someone believe in you."
There are plenty of Connecticut metalheads who believe in the Curse as well.  Your next chance to see them will be at Dewey's Pub in Seymour on 12/29, alongside Nasty Disaster, When Waters Rise, and When the Deadbolt Breaks.   Check out these guys live or pick up their music on iTunes, and let us know what you think!
Links